Konyaspor vs Adana Demirspor Live Stream, Predictions
Return to this page a few days before the scheduled game when this expired prediction will be updated with our full preview and tips for the next match between these teams.
Full-Time Result Prediction
The Super Lig tie at Konya Büyükşehir Stadium on Tuesday sees home side Konyaspor up against opponents in Adana Demirspor.
Our Konyaspor v Adana Demirspor predictions, statistics and match poll can be seen below - as well as the best betting odds.
Both Teams to Score Prediction
📊 Form Guide

Konyaspor
Konyaspor will be wanting a better result here after the 0-1 Super Lig defeat last time out to Sivasspor.
In that game, Konyaspor managed 62% possession and 15 attempts on goal with 4 on target. For their opponents, Sivasspor had 11 attempts on goal with 2 on target. Leke James (66') scored for Sivasspor.
Their most recent results reveal that huge efforts have been put in by the Konyaspor backline. Konyaspor have been miserly, with the tally of goals that have gone in at their end over the course of their past 6 games standing at 3. In any event, we'll just have to find out whether such a trend might continue on here in this game or not.

Adana Demirspor
Previously, Adana Demirspor drew 1-1 in the Super Lig match with Kayserispor.
In that match, Adana Demirspor managed 51% possession and 12 attempts on goal with 7 on target. The scorer for Adana Demirspor was Britt Assombalonga (26'). Kayserispor had 16 shots at goal with 11 on target. Carlos Mané (88') was the scorer for Kayserispor.
A series of hard-working showings by the Adana Demirspor defence has resulted in the number of goals they've conceded amounting to 4 from their last 6 clashes in total. In that time, their own attack force has managed to score 10.
Coming into this clash, Adana Demirspor are unbeaten in their previous 3 league matches away from home.
👥 Head to head
The last league contest between these sides was Super Lig match day 3 on 27/08/2021 which ended up with the score at Adana Demirspor 1-1 Konyaspor.
That day, Adana Demirspor managed 45% possession and 14 shots at goal with 3 on target. Their only player on the scoresheet was Britt Assombalonga (59').
At the other end, Konyaspor had 9 shots on goal with 2 on target. Abdülkerim Bardakcı (83') scored.
The match was refereed by Alper Ulusoy.
ℹ️ Team News: Konyaspor
Nearly everyone is up for selection, with just one fitness concern for the Konyaspor gaffer İlhan Palut to be concerned about from an otherwise complete squad. Artem Kravets (Unknown Injury) won't play.
📋 Team News: Adana Demirspor
Thanks to a mainly available group, there is only the lone fitness problem for the Adana Demirspor gaffer Vincenzo Montella to be concerned with. Kaan Kanak (Unknown Injury) won't be playing here.
⚡ Prediction
Our feeling is that Adana Demirspor have enough to find the back of the net against this Konyaspor lineup, although it probably shouldn't be as many as they'll concede.

We're expecting a close game with a 2-1 victory for Konyaspor after 90 minutes.
Our expert partners are tipping over 1.5 goals for this match. Check out their VIP predictions here.
Lucas Pereira, 01:06 14/01/2022
Predicted Lineups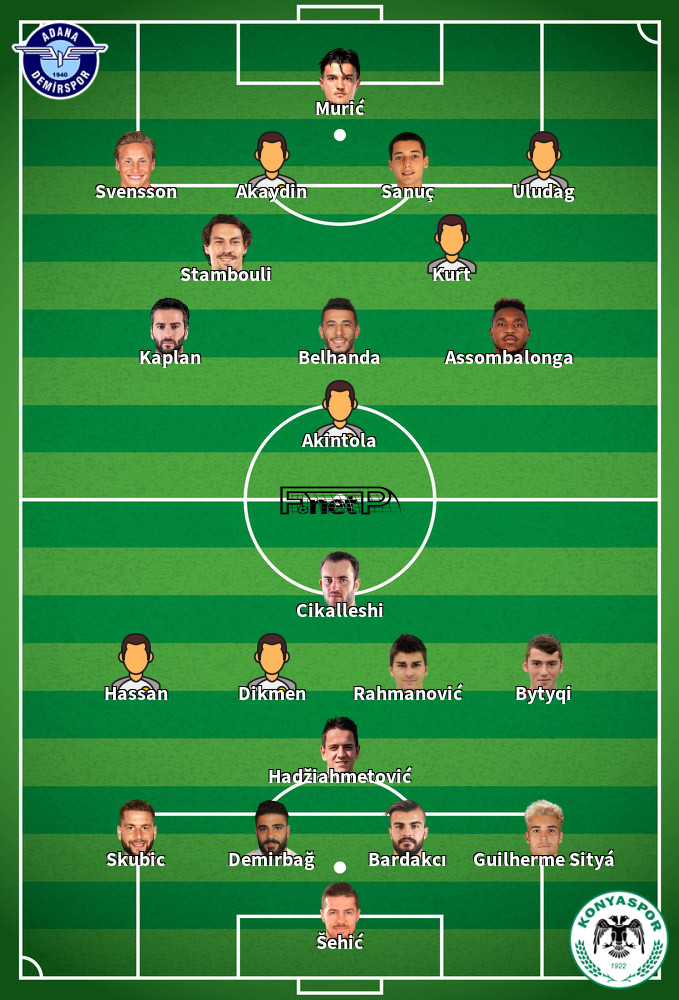 | | | |
| --- | --- | --- |
| Adana Demirspor | 2021-08-27 18:45:00 1 - 1 | Konyaspor |
Pos
Team
Pld
W
D
L
+/-
Pts
Form
1

Trabzonspor

Trabzon

21
15
5
1
23
50

W

W

D

W

D

2

Konyaspor

Konyaspor

20
11
6
3
16
39

W

W

W

W

L

3

Hatayspor

Hatayspor

21
11
2
8
4
35

L

L

W

L

W

4

İstanbul Başakşehir

Başakşehir

20
10
4
6
10
34

W

D

W

D

D

5

Adana Demirspor

Demirspor

21
9
7
5
6
34

W

W

D

W

D

6

Fenerbahçe

Fenerbahçe

21
9
6
6
7
33

D

D

W

L

D

7

Beşiktaş

Beşiktaş

21
9
5
7
3
32

D

W

L

D

W

8

Alanyaspor

Alanyaspor

21
9
5
7
0
32

L

L

D

D

W

9

Gaziantep

Gaziantep

22
9
5
8
-1
32

D

W

W

W

L

10

Sivasspor

Sivasspor

21
7
9
5
7
30

W

D

L

W

D

11

Fatih Karagümrük

Karagümrük

21
8
6
7
-1
30

W

D

D

L

W

12

Kayserispor

Kayserispor

21
7
7
7
0
28

D

D

W

W

D

13

Galatasaray

Galatasaray

21
7
6
8
-2
27

D

L

W

L

L

14

Giresunspor

Giresunspor

21
7
4
10
-1
25

W

L

L

W

L

15

Antalyaspor

Antalyaspor

21
6
5
10
-10
23

L

D

L

L

D

16

Göztepe

Göztepe

21
5
6
10
-5
21

L

L

D

W

W

17

Kasimpasa

Kasımpaşa

21
5
6
10
-5
21

L

D

W

W

W

18

Altay

Altay

21
5
3
13
-12
18

L

L

L

L

L

19

Çaykur Rizespor

Rizespor

21
5
3
13
-19
18

W

D

L

D

L

20

Yeni Malatyaspor

Malatyaspor

22
4
4
14
-20
16

L

D

L

L

L
| | | |
| --- | --- | --- |
| Altay | 2022-01-23 13:00:00 0 - 1 | Konyaspor |
| Konyaspor | 2022-01-18 17:00:00 1 - 0 | Adana Demirspor |
| Konyaspor | 2022-01-09 10:30:00 0 - 1 | Sivasspor |
| Konyaspor | 2021-12-27 17:00:00 1 - 0 | Beşiktaş |
| Hatayspor | 2021-12-22 14:00:00 1 - 3 | Konyaspor |
| Konyaspor | 2021-12-18 13:00:00 1 - 0 | Antalyaspor |
| | | |
| --- | --- | --- |
| Adana Demirspor | 2022-01-22 13:00:00 5 - 0 | Fatih Karagümrük |
| Konyaspor | 2022-01-18 17:00:00 1 - 0 | Adana Demirspor |
| Adana Demirspor | 2022-01-15 10:30:00 1 - 1 | Kayserispor |
| Fenerbahçe | 2022-01-10 17:00:00 1 - 2 | Adana Demirspor |
| Göztepe | 2021-12-26 13:00:00 1 - 1 | Adana Demirspor |
| Adana Demirspor | 2021-12-21 17:00:00 2 - 0 | Galatasaray |
| | | |
| --- | --- | --- |
| Konyaspor | 2022-01-09 00:00:00 0 - 1 | Sivasspor |
| Konyaspor | 2021-12-27 00:00:00 1 - 0 | Beşiktaş |
| Konyaspor | 2021-12-18 00:00:00 1 - 0 | Antalyaspor |
| Konyaspor | 2021-12-06 00:00:00 0 - 0 | Yeni Malatyaspor |
| Konyaspor | 2021-11-21 00:00:00 3 - 0 | Çaykur Rizespor |
| Konyaspor | 2021-10-30 00:00:00 2 - 1 | Fenerbahçe |
| | | |
| --- | --- | --- |
| Fenerbahçe | 2022-01-10 00:00:00 1 - 2 | Adana Demirspor |
| Göztepe | 2021-12-26 00:00:00 1 - 1 | Adana Demirspor |
| Alanyaspor | 2021-12-18 00:00:00 1 - 3 | Adana Demirspor |
| Trabzonspor | 2021-12-04 00:00:00 2 - 0 | Adana Demirspor |
| Altay | 2021-11-21 00:00:00 1 - 3 | Adana Demirspor |
| İstanbul Başakşehir | 2021-11-01 00:00:00 2 - 1 | Adana Demirspor |
| | |
| --- | --- |
| Goals scored | 1.5 |
| Goals conceded | 0.6 |
| Time first goal scored | 40 |
| Time first goal conceded | 56 |
| Yellow cards | 2.5 |
| Red cards | 0 |
| Subs used | 4.1 |
| Biggest victory | 3-0 |
| Biggest defeat | 1-0 |
| | |
| --- | --- |
| Goals scored | 1.5 |
| Goals conceded | 1.6 |
| Time first goal scored | 47 |
| Time first goal conceded | 36 |
| Yellow cards | 2 |
| Red cards | 0.1 |
| Subs used | 4.5 |
| Biggest victory | 3-1 |
| Biggest defeat | 4-0 |
| | |
| --- | --- |
| Sokol Cikalleshi | 5 |
| Endri Çekiçi | 4 |
| Serdar Gürler | 4 |
| Abdülkerim Bardakcı | 3 |
| Ahmed Hassan | 3 |
| | |
| --- | --- |
| Mario Balotelli | 7 |
| Britt Assombalonga | 6 |
| Yunus Akgün | 5 |
| Matías Vargas | 4 |
| David Akintola | 2 |
| | | |
| --- | --- | --- |
| Altay | 2022-01-23 13:00:00 | Konyaspor |
| Konyaspor | 2022-02-06 00:00:00 | Giresunspor |
| Trabzonspor | 2022-02-13 00:00:00 | Konyaspor |
| Konyaspor | 2022-02-20 00:00:00 | Kasimpasa |
| Alanyaspor | 2022-02-27 00:00:00 | Konyaspor |
| Konyaspor | 2022-03-06 00:00:00 | Galatasaray |
| Kayserispor | 2022-03-13 00:00:00 | Konyaspor |
| Fenerbahçe | 2022-03-20 00:00:00 | Konyaspor |
| Konyaspor | 2022-04-03 00:00:00 | Göztepe |
| Çaykur Rizespor | 2022-04-10 00:00:00 | Konyaspor |
| | | |
| --- | --- | --- |
| Adana Demirspor | 2022-01-22 13:00:00 | Fatih Karagümrük |
| Çaykur Rizespor | 2022-02-06 00:00:00 | Adana Demirspor |
| Adana Demirspor | 2022-02-13 00:00:00 | Beşiktaş |
| Gaziantep | 2022-02-20 00:00:00 | Adana Demirspor |
| Adana Demirspor | 2022-02-27 00:00:00 | Antalyaspor |
| Yeni Malatyaspor | 2022-03-06 00:00:00 | Adana Demirspor |
| Adana Demirspor | 2022-03-13 00:00:00 | Sivasspor |
| Adana Demirspor | 2022-03-20 00:00:00 | İstanbul Başakşehir |
| Hatayspor | 2022-04-03 00:00:00 | Adana Demirspor |
| Adana Demirspor | 2022-04-10 00:00:00 | Altay |