Alaves vs Real Betis Prediction & Betting Tips
Return to this page a few days before the scheduled game when this expired prediction will be updated with our full preview and tips for the next match between these teams.
The La Liga fixture at Estadio Mendizorrotza on Monday will see hosts Alaves facing opposition in the form of Real Betis.
All of our predictions, stats and the user poll for Alaves v Real Betis are shown below (including the best match odds).
📏 Form Guide
Alaves
L
L
L
D
W
L
Alaves will be hoping to bounce back here following a 0-5 La Liga defeat last time out to Barcelona.
For their opponents, FC Barcelona had 16 shots on goal with 8 of them on target. Ansu Fati (24'), Lionel Messi (34', 75'), Luis Suárez (44') and Nélson Semedo (57') scored for Barcelona.
It's been seldom in recent games that Alaves haven't conceded. It will be a concern for them that Babazorros have failed to prevent opponents from scoring in 5 of their previous 6 games, leaking 11 goals during that time. In any event, time will tell whether that trend might be maintained in this game or not.
Real Betis
L

D

W

L

L

L

📉

Following on from a losing effort in their last game against Real Valladolid in La Liga competition, Real Betis will be hoping to turn things around here.

In that match, Real Betis had 72% possession and 10 shots on goal with 4 on target. Real Valladolid got 13 shots at goal with 4 of them on target. Sergi Guardiola (45') and Óscar Plano (63') scored for Real Valladolid.

The stats tell the story, and Real Betis have been scored against in 5 of their last 6 matches, seeing their opponents hit 8 goals overall. Defensively, Béticos can certainly do much better.
↔️ Head to head
Inspecting their past head to head clashes dating back to 21/10/2017 shows us that Alaves have won 1 of these and Real Betis 2, with the number of drawn results standing at 3.
A combined total of 13 goals were scored between the two sides during those clashes, with 5 from Babazorros and 8 coming from Béticos. The average number of goals per game works out to 2.17.
The previous league contest between these sides was LaLiga match day 37 on 16/07/2020 when it ended Real Betis 1-2 Alaves.
On that occasion, Real Betis had 72% possession and 14 attempts on goal with 7 on target. Their only player to score was Loren (93').
At the other end, Alaves had 9 attempts on goal with 5 on target. Joselu (51') and Rodrigo Ely (76') scored.
The referee was David Medié Jiménez.
ℹ️ Team News: Alaves
Alaves manager Pablo Machín will be thankful to have no fitness concerns at all ahead of this game with a completely healthy squad to pick from.
It seems likely that Babazorros could use the 3-1-4-2 system with Fernando Pacheco, Ruben Duarte, Victor Laguardia, Rodrigo Ely, Tomas Pina, Luis Rioja, Rodrigo Andres Battaglia, Pons Riera Pere, Édgar Méndez, Lucas Pérez Martínez and Joselu.
ℹ️ Team News: Real Betis
Real Betis manager Manuel Pellegrini has to choose from a squad that has some fitness concerns. Wilfrid Kaptoum (Muscle Injury), Dani Martín (Sprained ankle) and Víctor Camarasa (Cruciate Ligament Rupture) are not ready for selection.
We are inclined to think that Béticos seem most likely to play in a 4-2-3-1 lineup by sending out Claudio Bravo, Emerson Aparecido, Aissa Mandi, Marc Bartra, Alex Moreno, William Carvalho, Guido Rodriguez, Nabil Fekir, Sergio Canales, Joaquin and Borja Iglesias.
⚡ Prediction
We're inclined to think that Real Betis and Alaves could both find goals hard to come by here.

It's looking like it could well end up as a draw. We're therefore tipping a very close game with a 0-0 scoreline at the end of this game.
Victor Martins, 23:10 09/09/2020
Over/Under 2.5 Goals Prediction for Alaves vs Real Betis
Predicted Lineups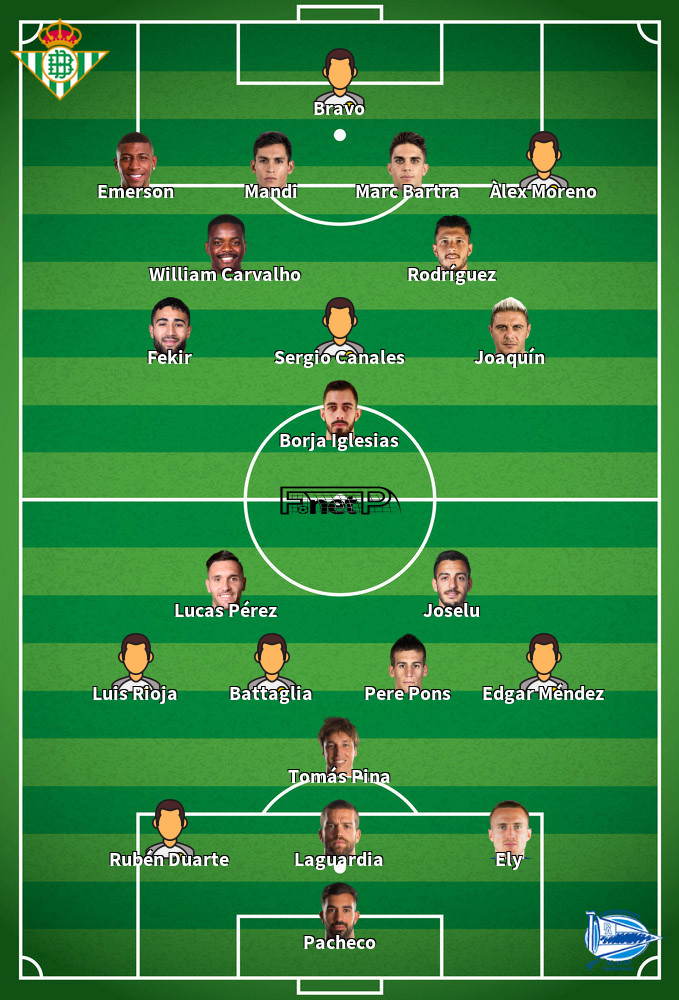 | | | |
| --- | --- | --- |
| Real Betis | 2020-07-16 19:00:00 1 - 2 | Alaves |
| Alaves | 2020-01-05 15:00:00 1 - 1 | Real Betis |
| Real Betis | 2019-02-17 19:45:00 1 - 1 | Alaves |
| Alaves | 2018-08-25 16:15:00 0 - 0 | Real Betis |
| Alaves | 2018-03-12 20:00:00 1 - 3 | Real Betis |
| Real Betis | 2017-10-21 14:15:00 2 - 0 | Alaves |
Pos
Team
Pld
W
D
L
+/-
Pts
Form
1

Granada

Granada

1
1
0
0
2
3

W

L

W

W

W

2

Osasuna

Osasuna

1
1
0
0
2
3

L

W

W

D

W

3

Celta Vigo

Celta

1
0
1
0
0
1

D

L

L

D

D

4

Eibar

Eibar

1
0
1
0
0
1

D

W

W

L

D

5

Alaves

Alavés

0
0
0
0
0
0

L

L

D

W

L

6

Atlético Madrid

Atlético

0
0
0
0
0
0

W

D

W

W

D

7

Barcelona

Barcelona

0
0
0
0
0
0

W

W

W

L

W

8

Elche CF

Elche

0
0
0
0
0
0
9

Getafe

Getafe

0
0
0
0
0
0

D

L

D

L

L

10

SD Huesca

Huesca

0
0
0
0
0
0
11

Levante

Levante

0
0
0
0
0
0

D

L

L

W

W

12

Real Betis

Real Betis

0
0
0
0
0
0

D

W

L

L

L

13

Real Madrid

Real Madrid

0
0
0
0
0
0

W

W

W

W

D

14

Real Sociedad

Sociedad

0
0
0
0
0
0

D

L

W

D

D

15

Real Valladolid

Valladolid

0
0
0
0
0
0

W

L

L

L

W

16

Seville

Sevilla

0
0
0
0
0
0

W

W

W

D

W

17

Valencia

Valencia

0
0
0
0
0
0

D

W

L

W

L

18

Villarreal

Villarreal

0
0
0
0
0
0

L

W

L

L

W

19

Athletic Bilbao

Bilbao

1
0
0
1
-2
0

L

W

L

L

L

20

Cádiz

Cádiz

1
0
0
1
-2
0

L
| | | |
| --- | --- | --- |
| Alaves | 2020-09-13 12:00:00 0 - 1 | Real Betis |
| Alaves | 2020-07-19 15:00:00 0 - 5 | FC Barcelona |
| Real Betis | 2020-07-16 19:00:00 1 - 2 | Alaves |
| Alaves | 2020-07-13 17:30:00 0 - 0 | Getafe CF |
| Real Madrid CF | 2020-07-10 20:00:00 2 - 0 | Alaves |
| Real Valladolid | 2020-07-04 17:30:00 1 - 0 | Alaves |
| | | |
| --- | --- | --- |
| Alaves | 2020-09-13 12:00:00 0 - 1 | Real Betis |
| Real Valladolid | 2020-07-19 16:30:00 2 - 0 | Real Betis |
| Real Betis | 2020-07-16 19:00:00 1 - 2 | Alaves |
| Atlético de Madrid | 2020-07-11 20:00:00 1 - 0 | Real Betis |
| Real Betis | 2020-07-08 18:30:00 3 - 0 | CA Osasuna |
| Celta de Vigo | 2020-07-04 15:00:00 1 - 1 | Real Betis |
| | | |
| --- | --- | --- |
| Alaves | 2020-07-19 00:00:00 0 - 5 | FC Barcelona |
| Alaves | 2020-07-13 00:00:00 0 - 0 | Getafe CF |
| Alaves | 2020-07-01 00:00:00 0 - 2 | Granada CF |
| Alaves | 2020-06-24 00:00:00 0 - 1 | CA Osasuna |
| Alaves | 2020-06-18 00:00:00 2 - 0 | Real Sociedad |
| Alaves | 2020-03-06 00:00:00 1 - 1 | Valencia CF |
| | | |
| --- | --- | --- |
| Real Valladolid | 2020-07-19 00:00:00 2 - 0 | Real Betis |
| Atlético de Madrid | 2020-07-11 00:00:00 1 - 0 | Real Betis |
| Celta de Vigo | 2020-07-04 00:00:00 1 - 1 | Real Betis |
| Levante UD | 2020-06-28 00:00:00 4 - 2 | Real Betis |
| Athletic Bilbao | 2020-06-20 00:00:00 1 - 0 | Real Betis |
| Sevilla FC | 2020-06-11 00:00:00 2 - 0 | Real Betis |
| | | |
| --- | --- | --- |
| Granada CF | 2020-09-20 16:30:00 | Alaves |
| Alaves | 2020-09-27 15:00:00 | Getafe CF |
| Villarreal CF | 2020-09-30 00:00:00 | Alaves |
| Alaves | 2020-10-04 00:00:00 | Athletic Bilbao |
| Alaves | 2020-10-18 00:00:00 | Elche CF |
| Real Valladolid | 2020-10-25 00:00:00 | Alaves |
| Alaves | 2020-11-01 00:00:00 | FC Barcelona |
| Levante UD | 2020-11-08 00:00:00 | Alaves |
| Alaves | 2020-11-22 00:00:00 | Valencia CF |
| Real Madrid CF | 2020-11-29 00:00:00 | Alaves |
| | | |
| --- | --- | --- |
| Real Betis | 2020-09-20 16:30:00 | Real Valladolid |
| Real Betis | 2020-09-27 15:00:00 | Real Madrid CF |
| Getafe CF | 2020-09-30 00:00:00 | Real Betis |
| Valencia CF | 2020-10-04 00:00:00 | Real Betis |
| Real Betis | 2020-10-18 00:00:00 | Real Sociedad |
| Atlético de Madrid | 2020-10-25 00:00:00 | Real Betis |
| Real Betis | 2020-11-01 00:00:00 | Elche CF |
| FC Barcelona | 2020-11-08 00:00:00 | Real Betis |
| Athletic Bilbao | 2020-11-22 00:00:00 | Real Betis |
| Real Betis | 2020-11-29 00:00:00 | Eibar |
Villarreal
Eibar
2020-09-19 14:00:00
{{ props.days }}d

{{ props.hours }}h {{ props.minutes }}m

{{ props.seconds }}s
Preview & Prediction »
Getafe
Osasuna
2020-09-19 16:30:00
{{ props.days }}d

{{ props.hours }}h {{ props.minutes }}m

{{ props.seconds }}s
Preview & Prediction »
Celta Vigo
Valencia
2020-09-19 19:00:00
{{ props.days }}d

{{ props.hours }}h {{ props.minutes }}m

{{ props.seconds }}s
Preview & Prediction »
SD Huesca
Cádiz
2020-09-20 14:00:00
{{ props.days }}d

{{ props.hours }}h {{ props.minutes }}m

{{ props.seconds }}s
Preview & Prediction »
Granada
Alaves
2020-09-20 16:30:00
{{ props.days }}d

{{ props.hours }}h {{ props.minutes }}m

{{ props.seconds }}s
Preview & Prediction »
Real Betis
Real Valladolid
2020-09-20 16:30:00
{{ props.days }}d

{{ props.hours }}h {{ props.minutes }}m

{{ props.seconds }}s
Preview & Prediction »