Athletic Bilbao vs Barcelona Prediction & Betting Tips
Return to this page a few days before the scheduled game when this expired prediction will be updated with our full preview and tips for the next match between these teams.
Full-Time Result Prediction for Athletic Bilbao vs Barcelona
The massive Copa del Rey quarter-final meeting between Athletic Bilbao and Barcelona kicks off on Thursday. With the carrot of that date with the semi-finals at stake, it could well be a great game of football from these two.
Both Teams to Score Prediction for Athletic Bilbao vs Barcelona
Over/Under 2.5 Goals Prediction for Athletic Bilbao vs Barcelona

⚽️ Team Focus:
Athletic Bilbao
Formed: 1898
Nickname: Los Leones
Stadium: Estadio San Mamés (53,289)
Captain: Iker Muniain
Chairman: Aitor Elizegi
Manager: Gaizka Garitano
Competitions: LaLiga position 9, Copa del Rey (Quarter-Finals)
Key Player: Iker Muniain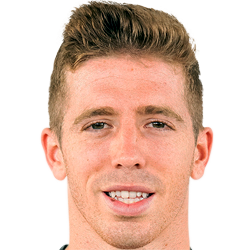 Usually used in the Central Attacking Midfielder position, Iker Muniain was born in Iruñea, Spain. Having played his first senior match for Athletic Bilbao in the 2009 - 2010 season, the accomplished Midfielder has scored 4 league goals in the LaLiga 2019 - 2020 campaign so far in a total of 16 appearances.
| | | |
| --- | --- | --- |
| Athletic Bilbao | 2019-08-16 19:00:00 1 - 0 | FC Barcelona |
| Athletic Bilbao | 2019-02-10 19:45:00 0 - 0 | FC Barcelona |
| FC Barcelona | 2018-09-29 14:15:00 1 - 1 | Athletic Bilbao |
| FC Barcelona | 2018-03-18 15:15:00 2 - 0 | Athletic Bilbao |
| Athletic Bilbao | 2017-10-28 18:45:00 0 - 2 | FC Barcelona |
| FC Barcelona | 2017-02-04 15:15:00 3 - 0 | Athletic Bilbao |
Pos
Team
Pld
W
D
L
+/-
Pts
Form
1

Real Madrid

Real Madrid

22
14
7
1
27
49
D

W

W

W

W

2

Barcelona

Barcelona

22
14
4
4
26
46

W

D

W

L

W

3

Getafe

Getafe

22
11
6
5
12
39

L

L

W

W

W

4

Seville

Sevilla

22
11
6
5
7
39

W

D

L

W

D
5

Valencia

Valencia

22
10
7
5
4
37
D

W

L

W

W

6

Atlético Madrid

Atlético

22
9
9
4
7
36

W

W

L

D

L

7

Villarreal

Villarreal

22
10
4
8
9
34

W

W

L

W

W

8

Real Sociedad

Sociedad

22
10
4
8
7
34

W

L

L

W

L

9

Athletic Bilbao

Bilbao

22
7
10
5
5
31
DDDD

L

10

Granada

Granada

22
9
3
10
-2
30

L

W

L

L

W

11

Osasuna

Osasuna

22
6
10
6
1
28

L

DD

W

L

12

Real Betis

Real Betis

22
7
7
8
-4
28

L

D

W

L

D
13

Levante

Levante

22
8
2
12
-7
26

W

L

L

L

L

14

Real Valladolid

Valladolid

22
5
10
7
-6
25
DDD

L

W

15

Alaves

Alavés

22
6
6
10
-9
24

L

D

W

L

D
16

Eibar

Eibar

22
6
6
10
-9
24

W

L

W

DD
17

Mallorca

Mallorca

22
5
3
14
-16
18

L

L

W

L

L

18

Leganés

Leganés

22
4
6
12
-16
18

W

D

L

D

W

19

Celta Vigo

Celta

22
3
8
11
-14
17

L

DDD

L

20

Espanyol

Espanyol

22
3
6
13
-22
15

L

D

W

D

L
| | | |
| --- | --- | --- |
| Real Valladolid | 2020-03-08 13:00:00 1 - 4 | Athletic Bilbao |
| Granada CF | 2020-03-05 20:00:00 2 - 1 | Athletic Bilbao |
| Athletic Bilbao | 2020-03-01 13:00:00 1 - 0 | Villarreal CF |
| Alaves | 2020-02-23 13:00:00 2 - 1 | Athletic Bilbao |
| Athletic Bilbao | 2020-02-16 17:30:00 0 - 1 | CA Osasuna |
| Athletic Bilbao | 2020-02-12 20:00:00 1 - 0 | Granada CF |
| | | |
| --- | --- | --- |
| FC Barcelona | 2020-03-07 17:30:00 1 - 0 | Real Sociedad |
| Real Madrid CF | 2020-03-01 20:00:00 2 - 0 | FC Barcelona |
| SSC Napoli | 2020-02-25 20:00:00 1 - 1 | FC Barcelona |
| FC Barcelona | 2020-02-22 15:00:00 5 - 0 | Eibar |
| FC Barcelona | 2020-02-15 15:00:00 2 - 1 | Getafe CF |
| Real Betis | 2020-02-09 20:00:00 2 - 3 | FC Barcelona |
| | | |
| --- | --- | --- |
| Athletic Bilbao | 2020-02-02 00:00:00 0 - 2 | Getafe CF |
| Athletic Bilbao | 2020-01-19 00:00:00 1 - 1 | Celta de Vigo |
| Athletic Bilbao | 2019-12-14 00:00:00 0 - 0 | Eibar |
| Athletic Bilbao | 2019-12-01 00:00:00 2 - 0 | Granada CF |
| Athletic Bilbao | 2019-11-10 00:00:00 2 - 1 | Levante UD |
| Athletic Bilbao | 2019-10-30 00:00:00 3 - 0 | Espanyol |
| | | |
| --- | --- | --- |
| Valencia CF | 2020-01-25 00:00:00 2 - 0 | FC Barcelona |
| Espanyol | 2020-01-04 00:00:00 2 - 2 | FC Barcelona |
| Real Sociedad | 2019-12-14 00:00:00 2 - 2 | FC Barcelona |
| Atlético de Madrid | 2019-12-01 00:00:00 0 - 1 | FC Barcelona |
| Leganés | 2019-11-23 00:00:00 1 - 2 | FC Barcelona |
| Levante UD | 2019-11-02 00:00:00 3 - 1 | FC Barcelona |
| | | |
| --- | --- | --- |
| Athletic Bilbao | 2020-03-15 15:00:00 | Atlético de Madrid |
| Eibar | 2020-03-21 20:00:00 | Athletic Bilbao |
| Athletic Bilbao | 2020-04-04 00:00:00 | Real Betis |
| FC Barcelona | 2020-04-11 00:00:00 | Athletic Bilbao |
| Real Sociedad | 2020-04-18 19:00:00 | Athletic Bilbao |
| Athletic Bilbao | 2020-04-21 00:00:00 | RCD Mallorca |
| Valencia CF | 2020-04-25 00:00:00 | Athletic Bilbao |
| Athletic Bilbao | 2020-05-02 00:00:00 | Real Madrid CF |
| Athletic Bilbao | 2020-05-09 00:00:00 | Sevilla FC |
| Levante UD | 2020-05-12 00:00:00 | Athletic Bilbao |
| | | |
| --- | --- | --- |
| FC Barcelona | 2020-04-25 00:00:00 | Atlético de Madrid |
| Villarreal CF | 2020-05-02 00:00:00 | FC Barcelona |
| FC Barcelona | 2020-05-09 00:00:00 | Espanyol |
| Real Valladolid | 2020-05-12 00:00:00 | FC Barcelona |
| FC Barcelona | 2020-05-16 00:00:00 | CA Osasuna |
| Alaves | 2020-05-23 00:00:00 | FC Barcelona |
Lech Poznań
Legia Warszawa
2020-05-30 18:00:00
{{ props.days }}d

{{ props.hours }}h {{ props.minutes }}m

{{ props.seconds }}s
Preview & Prediction »
SpVgg Unterhaching
FC Ingolstadt 04
2020-06-02 18:30:00
{{ props.days }}d

{{ props.hours }}h {{ props.minutes }}m

{{ props.seconds }}s
Preview & Prediction »
Bohemians
Dynamo České Budějovice
2020-05-31 14:00:00
{{ props.days }}d

{{ props.hours }}h {{ props.minutes }}m

{{ props.seconds }}s
Preview & Prediction »
Wisla Plock
Korona Kielce
2020-05-31 10:30:00
{{ props.days }}d

{{ props.hours }}h {{ props.minutes }}m

{{ props.seconds }}s
Preview & Prediction »
Sturm Graz
Wolfsberger AC
2020-06-03 16:30:00
{{ props.days }}d

{{ props.hours }}h {{ props.minutes }}m

{{ props.seconds }}s
Preview & Prediction »
Budapest Honvéd FC
Debreceni VSC
2020-05-31 16:55:00
{{ props.days }}d

{{ props.hours }}h {{ props.minutes }}m

{{ props.seconds }}s
Preview & Prediction »