By Andre Moura, FootballPredictions.NET, 21:18 02/10/2020
Updated at: 12:10 19/06/2023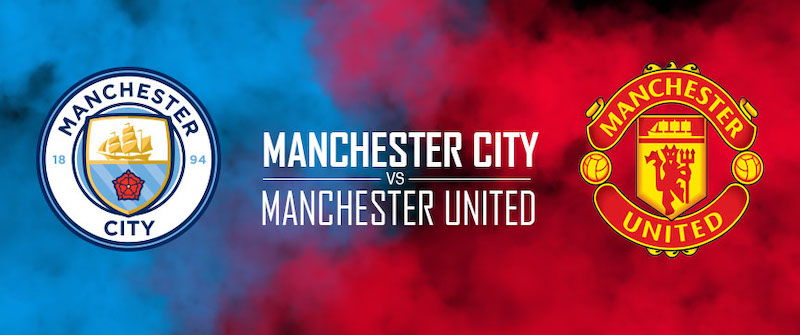 Football is intrinsically linked within society in the UK and few places possess fans as passionate as they are in Manchester. The 'Northern Powerhouse' it has become, Manchester currently houses over half a million people, with football, music, and pubs at the heart of the cultural revolution within the city.
From undeniably working class roots, Manchester is proud of its rich history within the shipping canal industry and the role it played within the industrial revolution. It's fair to say that those who hail from Manchester can be incredibly passionate about their neck of the woods.
In the 1970s however, Manchester was a city struggling for identity however and football (and the chaos that came with it) has gone on to divide the great city.
Deciphering an exact difference between Manchester United and Manchester City is not a straightforward equation - but there are many factors that have contributed to the division between the two that still exists today.
Unlike many footballing cities, religion is not at the heart of the divide in Manchester when it comes to football. Manchester United were formed in 1878, two years before City were formed and whilst one wasn't done in direct response to the other – the rivalry between the two clubs has always been present within Manchester.
Big Brother, Little Brother
When it comes to the respective fan bases, there is no disputing as to which team is better supported. The Busby Babes tragedy, along with icons such as Bobby Charlton, George Best, Eric Cantona and David Beckham have always made Manchester United a more supported side than Manchester City.
That, is David Beckham.

𝙀𝙫𝙚𝙧𝙮 𝙜𝙖𝙢𝙚, 𝙚𝙫𝙚𝙧𝙮 𝙜𝙤𝙖𝙡, 𝙤𝙣𝙡𝙮 𝙤𝙣 #𝙈𝙐𝙏𝙑 📲#MUFC #GoalOfTheDay pic.twitter.com/RYVGogGz1Y

— Manchester United (@ManUtd) August 17, 2020
It is estimated that nearly 1 billion people in the world follow Manchester United whilst around 110 million are believed to be fans of the blues.
On the field, too, Manchester United have always historically been more successful, although this is something that only changed in more recent times.
There was very little to split Manchester City and Manchester United through the eras – with United having won 7 league titles before 1993 and City having won 2, whilst their FA Cup records were even closer (United 6, City 4).
The arrival of Sir Alex Ferguson, however, left City trailing in United's wake as the Red Devils have gone on to win 20 league titles and 12 FA Cups to become the most successful English football team of all time.
Arabian Investment into City back in 2008 has seen them close the gap somewhat, taking both their League and FA Cup tally to 6. They have an awful long way to go to catch their arch-rivals, but with big-spending Sheikh Mansour calling the shots, the sky seems to be the limit as he wields his substantial wallet to get the top personnel.
Greater Manchester
There are plenty of obvious differences between Manchester United and Manchester City ranging from United having a bigger stadium and capacity at Old Trafford, all the way through to the fact that United wear red and city wear blue – the antithesis of each other at every opportunity.
Perhaps a lesser-known fact about the two clubs is that Manchester United are not actually based within the city of Manchester itself. Old Trafford is situated in Salford, a suburban town in the Greater Manchester area, whilst the Etihad is within the boundaries of Manchester City centre.
Whilst this trivial fact has little bearing on the two sides, City fans enjoy winding up their United counterparts by telling them they are not really from Manchester.
Taking Over the World
As mentioned, Manchester United are one of the best-supported sports teams on the planet. The global appeal sees United represented culturally across every continent.
During the 1990s and 2000s, they acquired many 'glory hunter' supporters – who unashamedly follow United because they had been winning a great deal.
Manchester City have been bridging this divide in recent years, with on-field success generating more popularity within the club but invariably City's fanbase is confined to Manchester and the surrounding area.
Within the rest of the UK meanwhile, Manchester United are followed all over the country, a knock-on effect of their dominance over the past few decades.