By Lucas Pereira, FootballPredictions.NET, 12:09 04/10/2020
Updated at: 10:50 18/02/2021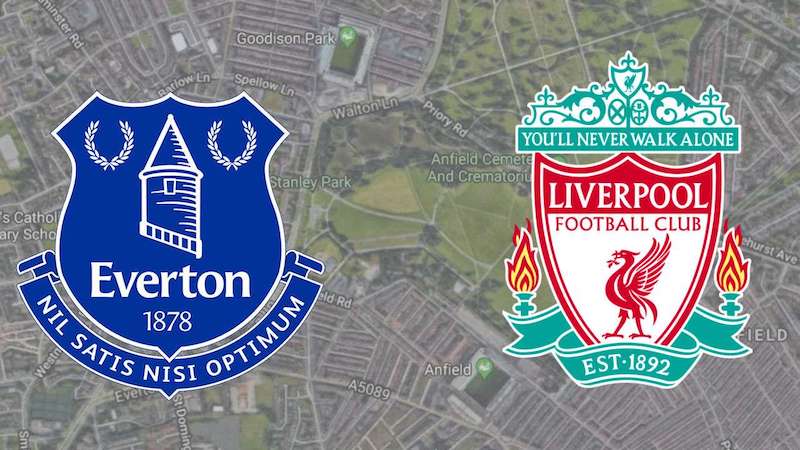 Merseyside rivals Everton and Liverpool have both enjoyed continuous periods of success within English football, winning 28 league titles between them.
It is not possible to measure exactly which club has the most supporters. However, Liverpool is the club with a greater following across all social media platforms.
Despite this, Everton has a higher record attendance at Goodison Park and boast a greater number of season ticket holders.
Whilst supporter numbers cannot be easily measured, it is possible to track how well known and/or popular each club is in the world of football.
The numbers behind the support of both Merseyside clubs
Liverpool's Anfield home trumps Goodison Park in terms of capacity, with The Reds' stadium being able to house 53,394 supporters on a matchday. Goodison Park only has a capacity of 39,414 but has the superior record attendance - 78,299 for a Merseyside Derby on September 18th 1948.
The record attendance for a game at Anfield is considerably lower at 61,905 for a match against Wolverhampton Wanderers in February 1952. Everton also have more annual season ticket sales, with 31,000 compared to Liverpool's 27,000.
Away from in-stadium fan numbers, Liverpool dwarf Everton by comparison. On Facebook, the official Liverpool account has 38 million followers and around 37 million likes, whilst The Toffees' account has just three million of each.
Liverpool's millions of Twitter followers is nearly ten times greater than Everton's tally on the same platform. The gulf is even larger on Instagram, where Liverpool are followed by 28 million accounts and Everton are followed by just 1.8 million.
Here are the current social media followers of all Premier League clubs (as of today):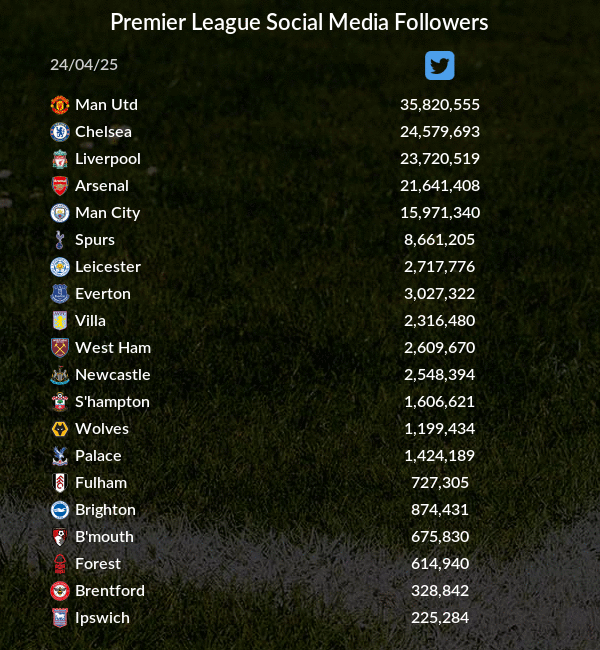 (Source: Footballpredictions.net)
The famous Liverpool support reaches all around the world
The vociferous Liverpool supporters are referred to - by themselves and outsiders - as Kopites, with the name deriving from those who used to stand and now sit on the famous Anfield Kop. Liverpool fans are known to have a range of chants in their repertoire including 'Ring of Fire' but their most renowned anthem is 'You'll Never Walk Alone'.
The Gerry and the Pacemakers recording of the song from the 1960s was beloved by legendary Reds manager Bill Shankly and soon moved onto the terraces where it has become synonymous with the club and the stadium.
The phrase 'You'll Never Walk Alone' now adorns the top of the Shankly Gates at the entrance to Anfield. It has also been adopted by clubs around the world, most notably Borussia Dortmund and Celtic.
The atmosphere at Anfield is further added to by the array of banners and flags displayed by the Kop prior to kick-off which create a daunting environment for opposition players as they exit the tunnel.
Liverpool have over 200 officially recognised supporter groups in 50 countries around the world. The club have taken advantage of this during pre-season tours ahead of recent campaigns as they have played in front of huge crowds - 101,000 in Michigan, USA and 95,000 in Melbourne, Australia.
The most well known of Liverpool's fan groups is the unofficial supporters' union Spirit of Shankly or SOS and was formed in 2008 by a group of fans that opposed the takeover of the club by American duo Tom Hicks and George Gilette.
They now operate as a cooperative representing their members on a range of matters such as ticketing, fan travel and community issues.
However, SOS are not supported by the entirety of the fanbase and an early protest by the group at an FA Cup tie against Havant and Waterlooville in 2008 was met by a chorus of boos, as the group chanted 'Liverpool Football Club, is in the wrong hands'.