Brighton vs Chelsea Prediction & Betting Tips
Return to this page a few days before the scheduled game when this expired prediction will be updated with our full preview and tips for the next match between these teams.
The Premier League meeting at AMEX Stadium on Monday will see home side Brighton welcome Chelsea.
To see all of our predictions, user poll & stats for Brighton v Chelsea, scroll down - plus the latest match odds.
📏 Form Guide
Brighton & Hove Albion
W

L

L

D

D

W

⚖

Brighton will be looking for a repeat result of a 1-2 Premier League victory against Burnley.

In that game, Brighton & Hove Albion had 46% possession and 14 attempts at goal with 4 of them on target. For Brighton & Hove Albion, the goals were scored by Yves Bissouma (20') and Aaron Connolly (50'). Burnley had 13 shots at goal with 2 on target. Chris Wood (44') was the scorer for Burnley.

In their past 6 fixtures, Graham Potter's Brighton & Hove Albion have hit the back of the net 5 times, an average number of goals per match equal to 0.83.
Chelsea
W
W
L
W
L
L
Following on from a loss in their previous game against Bayern Munich in Champions League action, Chelsea and their fans will hope to get a better result this time.
In that game, Chelsea had 37% possession and 10 shots on goal with 4 of them on target. The only player on the scoresheet for Chelsea was Tammy Abraham (44'). Bayern München got 18 shots at goal with 7 of them on target. Robert Lewandowski (10', 83'), Ivan Perišić (24') and Corentin Tolisso (76') scored for Bayern Munich.
In their previous six clashes, Chelsea have helped themselves to the sum of 11 goals. The Blues have also scored on each one of those occasions. Over that period, they have had 12 goals go against them.
🤜🤛 Head to head
An examination of their past head to head meetings going back to 26/12/2017 shows that these fixtures have been disappointments for Brighton. They have not been able to come away with any wins whatsoever while Chelsea have managed to find a way, running out winners in 83 per cent of those match-ups.
16 goals were produced between them in this period, with 2 for The Seagulls and 14 coming from The Blues. The average number of goals per game works out to 2.67.
The last league encounter featuring the two was Premier League match day 21 on 01/01/2020 when it ended Brighton & Hove Albion 1-1 Chelsea.
In that match, Brighton & Hove Albion had 47% possession and 16 shots on goal with 5 on target. Their only player on the scoresheet was Alireza Jahanbakhsh (84').
At the other end, Chelsea had 16 attempts on goal with 5 on target. Azpilicueta (10') was the scorer.
The match was refereed by Stuart Attwell.
🗞️ Team News: Brighton
Almost everyone can be considered, as there's just the lone fitness concern for the Brighton gaffer Graham Potter to be concerned with thanks to an almost full-strength group of players. Florin Andone (Ruptured cruciate ligament) won't play.
We think that The Seagulls will possibly employ a 4-3-2-1 formation for this game, handing starts to Matthew Ryan, Dan Burn, Lewis Dunk, Adam Webster, Tariq Lamptey, Dale Stephens, Alexis Mac Allister, Yves Bissouma, Adam Lallana, Leandro Trossard and Neal Maupay.
📋 Team News: Chelsea
Chelsea manager Frank Lampard has to currently contend with reduced team options. Christian Pulisic (Hamstring Injury), Charly Musonda Jr. (Knee Surgery), Ben Chilwell (Foot Injury), Abdul Rahman Baba (Knee Injury), Marco van Ginkel (Knee Injury) and Billy Gilmour (Knee Injury) can't be considered.
From our viewpoint, The Blues seem likely to elect for a 4-3-3 system, giving starts to Kepa Arrizabalaga, Marcos Alonso, Kurt Zouma, Antonio Rüdiger, Reece James, Ross Barkley, Ngolo Kante, Mason Mount, Timo Werner, Olivier Giroud and Christian Pulisic.
🧠 Prediction
We're envisaging that Brighton may not find it easy to get anything against this Chelsea team who should be able to grind out a win.

We therefore fancy a very competitive encounter with a 0-1 winning margin for Chelsea at the end of the 90 minutes.

Let's see what happens.
Lucas Pereira, 10:12 10/09/2020
Over/Under 2.5 Goals Prediction for Brighton vs Chelsea
Predicted Lineups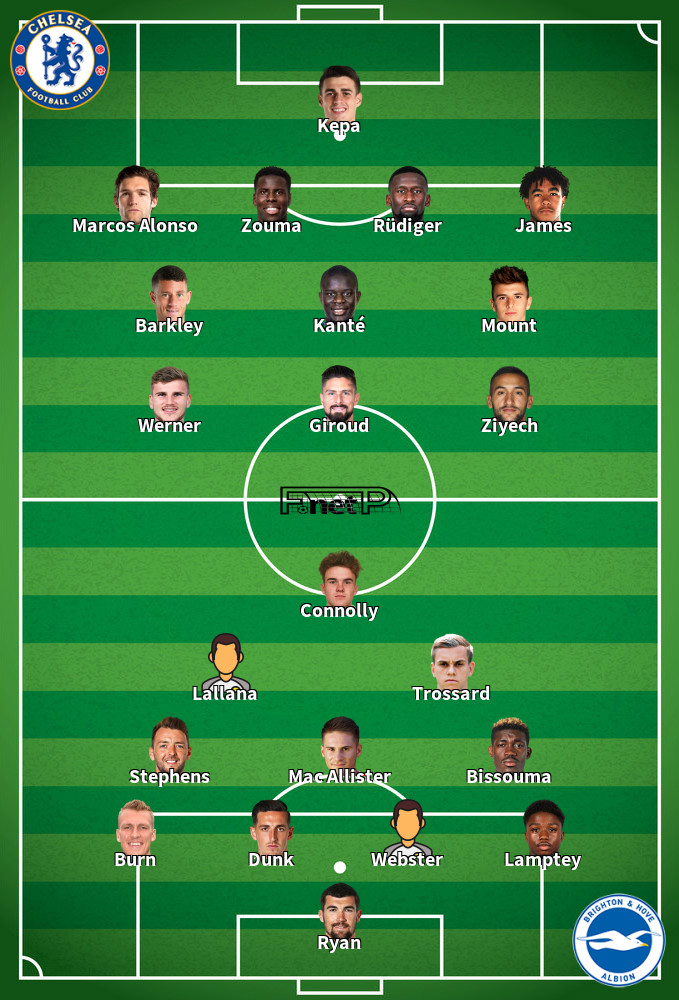 | | | |
| --- | --- | --- |
| Brighton & Hove Albion | 2020-01-01 12:30:00 1 - 1 | Chelsea |
| Chelsea | 2019-09-28 14:00:00 2 - 0 | Brighton & Hove Albion |
| Chelsea | 2019-04-03 18:45:00 3 - 0 | Brighton & Hove Albion |
| Brighton & Hove Albion | 2018-12-16 13:30:00 1 - 2 | Chelsea |
| Brighton & Hove Albion | 2018-01-20 12:30:00 0 - 4 | Chelsea |
| Chelsea | 2017-12-26 15:00:00 2 - 0 | Brighton & Hove Albion |
Pos
Team
Pld
W
D
L
+/-
Pts
Form
1

Arsenal

Arsenal

1
1
0
0
3
3

L

W

L

W

W

2

Leicester City

Leicester

1
1
0
0
3
3

L

W

L

L

W

3

Newcastle United

Newcastle

1
1
0
0
2
3

L

L

D

L

W

4

Wolverhampton Wanderers

Wolves

1
1
0
0
2
3

L

W

D

W

L

5

Liverpool

Liverpool

1
1
0
0
1
3

D

L

W

W

W

6

Crystal Palace

Palace

1
1
0
0
1
3

L

L

L

D

W

7

Everton

Everton

1
1
0
0
1
3

L

D

W

L

W

8

Aston Villa

Villa

0
0
0
0
0
0

L

W

D

W

D

9

Brighton & Hove Albion

Brighton

0
0
0
0
0
0

L

L

D

D

W

10

Burnley

Burnley

0
0
0
0
0
0

W

D

D

W

L

11

Chelsea

Chelsea

0
0
0
0
0
0

W

L

W

L

W

12

Manchester City

Man City

0
0
0
0
0
0

W

W

W

W

W

13

Manchester United

Man Utd

0
0
0
0
0
0

W

D

W

D

W

14

Leeds United

Leeds Utd

1
0
0
1
-1
0

L

15

Southampton

S'hampton

1
0
0
1
-1
0

D

D

W

W

L

16

Tottenham Hotspur

Spurs

1
0
0
1
-1
0

W

W

W

D

L

17

Sheffield United

Sheff Utd

1
0
0
1
-2
0

W

W

L

L

L

18

West Ham United

West Ham

1
0
0
1
-2
0

W

W

D

D

L

19

Fulham

Fulham

1
0
0
1
-3
0

L

20

West Bromwich Albion

West Brom

1
0
0
1
-3
0

L
| | | |
| --- | --- | --- |
| Preston North End | 2020-09-23 18:00:00 0 - 2 | Brighton & Hove Albion |
| Newcastle United | 2020-09-20 13:00:00 0 - 3 | Brighton & Hove Albion |
| Brighton & Hove Albion | 2020-09-17 18:45:00 4 - 0 | Portsmouth |
| Brighton & Hove Albion | 2020-09-14 19:15:00 1 - 3 | Chelsea |
| Burnley | 2020-07-26 15:00:00 1 - 2 | Brighton & Hove Albion |
| Brighton & Hove Albion | 2020-07-20 17:00:00 0 - 0 | Newcastle United |
| | | |
| --- | --- | --- |
| Chelsea | 2020-09-23 18:45:00 6 - 0 | Barnsley |
| Chelsea | 2020-09-20 15:30:00 0 - 2 | Liverpool |
| Brighton & Hove Albion | 2020-09-14 19:15:00 1 - 3 | Chelsea |
| Bayern München | 2020-08-08 19:00:00 4 - 1 | Chelsea |
| Arsenal | 2020-08-01 16:30:00 2 - 1 | Chelsea |
| Chelsea | 2020-07-26 15:00:00 2 - 0 | Wolverhampton Wanderers |
| | | |
| --- | --- | --- |
| Brighton & Hove Albion | 2020-07-20 00:00:00 0 - 0 | Newcastle United |
| Brighton & Hove Albion | 2020-07-11 00:00:00 0 - 5 | Manchester City |
| Brighton & Hove Albion | 2020-07-08 00:00:00 1 - 3 | Liverpool |
| Brighton & Hove Albion | 2020-06-30 00:00:00 0 - 3 | Manchester United |
| Brighton & Hove Albion | 2020-06-20 00:00:00 2 - 1 | Arsenal |
| Brighton & Hove Albion | 2020-02-29 00:00:00 0 - 1 | Crystal Palace |
| | | |
| --- | --- | --- |
| Liverpool | 2020-07-22 00:00:00 5 - 3 | Chelsea |
| Sheffield United | 2020-07-11 00:00:00 3 - 0 | Chelsea |
| Crystal Palace | 2020-07-07 00:00:00 2 - 3 | Chelsea |
| West Ham United | 2020-07-01 00:00:00 3 - 2 | Chelsea |
| Aston Villa | 2020-06-21 00:00:00 1 - 2 | Chelsea |
| Bournemouth | 2020-02-29 00:00:00 2 - 2 | Chelsea |
| | |
| --- | --- |
| Neal Maupay | 2 |
| Aaron Connolly | 1 |
| Leandro Trossard | 1 |
| | |
| --- | --- |
| Reece James | 1 |
| Jorginho | 1 |
| Kurt Zouma | 1 |
| | | |
| --- | --- | --- |
| Brighton & Hove Albion | 2020-09-26 11:30:00 | Manchester United |
| Brighton & Hove Albion | 2020-09-30 18:45:00 | Manchester United |
| Everton | 2020-10-03 14:00:00 | Brighton & Hove Albion |
| Crystal Palace | 2020-10-17 14:00:00 | Brighton & Hove Albion |
| Brighton & Hove Albion | 2020-10-24 14:00:00 | West Bromwich Albion |
| Tottenham Hotspur | 2020-10-31 15:00:00 | Brighton & Hove Albion |
| Brighton & Hove Albion | 2020-11-07 15:00:00 | Burnley |
| Aston Villa | 2020-11-21 15:00:00 | Brighton & Hove Albion |
| Brighton & Hove Albion | 2020-11-28 15:00:00 | Liverpool |
| Brighton & Hove Albion | 2020-12-05 15:00:00 | Southampton |
| | | |
| --- | --- | --- |
| West Bromwich Albion | 2020-09-26 16:30:00 | Chelsea |
| Tottenham Hotspur | 2020-09-29 18:45:00 | Chelsea |
| Chelsea | 2020-10-03 11:30:00 | Crystal Palace |
| Chelsea | 2020-10-17 14:00:00 | Southampton |
| Manchester United | 2020-10-24 14:00:00 | Chelsea |
| Burnley | 2020-10-31 15:00:00 | Chelsea |
| Chelsea | 2020-11-07 15:00:00 | Sheffield United |
| Newcastle United | 2020-11-21 15:00:00 | Chelsea |
| Chelsea | 2020-11-28 15:00:00 | Tottenham Hotspur |
| Chelsea | 2020-12-05 15:00:00 | Leeds United |
Crystal Palace
Everton
2020-09-26 14:00:00
{{ props.days }}d

{{ props.hours }}h {{ props.minutes }}m

{{ props.seconds }}s
Preview & Prediction »
West Bromwich Albion
Chelsea
2020-09-26 16:30:00
{{ props.days }}d

{{ props.hours }}h {{ props.minutes }}m

{{ props.seconds }}s
Preview & Prediction »
Burnley
Southampton
2020-09-26 19:00:00
{{ props.days }}d

{{ props.hours }}h {{ props.minutes }}m

{{ props.seconds }}s
Preview & Prediction »
Sheffield United
Leeds United
2020-09-27 11:00:00
{{ props.days }}d

{{ props.hours }}h {{ props.minutes }}m

{{ props.seconds }}s
Preview & Prediction »
Tottenham Hotspur
Newcastle United
2020-09-27 13:00:00
{{ props.days }}d

{{ props.hours }}h {{ props.minutes }}m

{{ props.seconds }}s
Preview & Prediction »
Manchester City
Leicester City
2020-09-27 15:30:00
{{ props.days }}d

{{ props.hours }}h {{ props.minutes }}m

{{ props.seconds }}s
Preview & Prediction »