Getafe vs Osasuna Prediction & Betting Tips
Return to this page a few days before the scheduled game when this expired prediction will be updated with our full preview and tips for the next match between these teams.
Getafe will take to the pitch with guests Osasuna at Estadio Coliseum Alfonso Pérez in the La Liga tie on Friday.
View all Getafe v Osasuna tips, stats and our pre-match poll below (including the best match odds).
📏 Form Guide
Getafe
D

L

D

L

L

L

📉

Getafe will be looking for an improved result here following a 2-0 Europa League loss in their previous game against Inter Milan.

In that match, Getafe managed 47% possession and 17 attempts at goal with 2 on target. Inter Milan got 10 attempts on goal with 5 of them on target. Romelu Lukaku (33') and Christian Eriksen (83') scored for Inter Milan.

Getafe have really struggled up front of late. Their goals record stands at just 1 vs opposing sides over the course of their last six outings. In those games, Azulones have also seen the number of goals against them come to 8. That sort of trend won't necessarily be carried forward into this match, though.

Their previous form shows that Getafe:
haven't lost in the league to CA Osasuna in their previous 2 matches.
haven't won against CA Osasuna in their previous 3 matches in the league.
are without a win at home for the past 2 matches in the league.
Osasuna
D
L
W
W
D
W
Osasuna head into the clash after a 0-2 La Liga win vs Cádiz in their last match.
In that match, Osasuna had 48% possession and 6 attempts at goal with 4 on target. For Osasuna, goals were scored by Adrian López (10') and Rubén García (79'). Cádiz had 12 attempts at goal with 3 on target.
In the course of their 6 most recent matches, Jagoba Arrasate's Osasuna have managed to stick the ball in the net 8 times - giving them a goals scored per game average of 1.33.
Looking at the pre-match facts, Osasuna:
haven't beaten Getafe CF when they've played them away from home in the last 7 league matches. They really have not been travelling well at all.
are undefeated in their previous 2 away league matches.
↔️ Head to head
Looking over their past head-to-head meetings dating back to 15/12/2012 tells us that Getafe have won 1 of them and Osasuna 2, with the tally of draws standing at 3.
A sum of 8 goals were produced between them during those clashes, with 3 of them for Azulones and 5 created by Los Rojillos. That's an average goals per game of 1.33.
The previous league contest featuring the two was LaLiga match day 34 on 05/07/2020 when it ended Osasuna 0-0 Getafe.
In that game, Osasuna had 48% possession and 6 attempts on goal with 2 on target.
Getafe had 6 attempts on goal with 1 on target.
The referee was Mario Melero López.
📰 Team News: Getafe
It's a low absenteeism rate, with just the sole fitness concern for the Getafe gaffer José Bordalás to contend with due to a largely intact group of players. Darío Poveda (Cruciate Ligament Rupture) is sidelined.
We think that Azulones should line up in a 4-4-2 system in the match, beginning the first half with David Soria, Mathí­as Olivera, Xabier Etxeita, Erick Cabaco, Djené Dakonam, Marc Cucurella, Nemanja Maksimovic, Mauro Arambarri, Allan Nyom, Jaime Mata and Enes Ünal.
ℹ️ Team News: Osasuna
Osasuna manager Jagoba Arrasate has to choose from a squad that has some fitness concerns. Marc Cardona (Dead Leg), Rubén García (Muscular problems), Darko Brasanac (Shoulder Injury), Brandon (Cruciate Ligament Rupture) and Chimy Ávila (Cruciate Ligament Rupture) are not able to play.
We're of the thinking that Los Rojillos seem most likely to elect for a 4-4-2 system with a starting lineup of Sergio Herrera, Nacho Vidal, Aridane Hernández, David García, Juan Cruz, Roberto Torres Morales, Jon Moncayola, Oier, Iñigo Pérez, Adrian and Rubén García.
💭 Prediction
We're of the opinion that Osasuna would be disappointed if they were not to score a goal against this Getafe side, however that realistically won't be as many as they'll concede.

We reckon that it will be a tight encounter finishing with a 2-1 winning score for Getafe at full-time. Should be a good one.
Lucas Pereira, 23:10 13/09/2020
Both Teams to Score Prediction for Getafe vs Osasuna
Predicted Lineups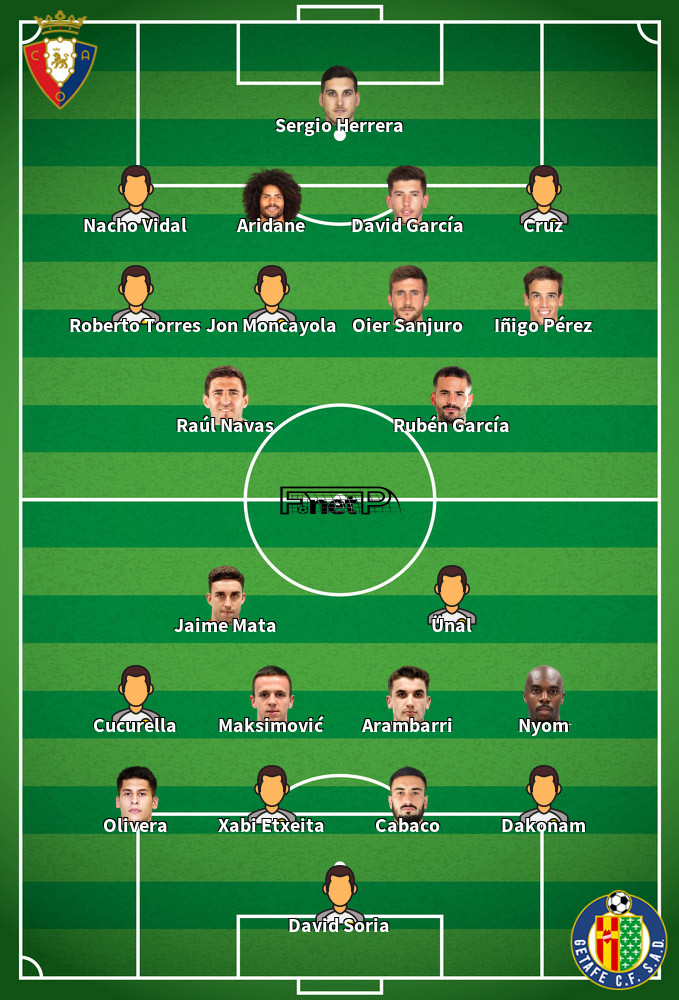 | | | |
| --- | --- | --- |
| CA Osasuna | 2020-07-05 17:30:00 0 - 0 | Getafe CF |
| Getafe CF | 2019-11-10 17:30:00 0 - 0 | CA Osasuna |
| CA Osasuna | 2014-02-09 11:00:00 2 - 0 | Getafe CF |
| Getafe CF | 2013-09-15 15:00:00 2 - 1 | CA Osasuna |
| CA Osasuna | 2013-05-11 18:00:00 1 - 0 | Getafe CF |
| Getafe CF | 2012-12-15 15:00:00 1 - 1 | CA Osasuna |
Pos
Team
Pld
W
D
L
+/-
Pts
Form
1

Villarreal

Villarreal

2
1
1
0
1
4

W

L

L

W

D

2

Valencia

Valencia

1
1
0
0
2
3

W

L

W

L

W

3

Granada

Granada

1
1
0
0
2
3

W

L

W

W

W

4

Osasuna

Osasuna

1
1
0
0
2
3

L

W

W

D

W

5

Real Betis

Real Betis

1
1
0
0
1
3

W

L

L

L

W

6

SD Huesca

Huesca

1
0
1
0
0
1

D

7

Real Sociedad

Sociedad

1
0
1
0
0
1

L

W

D

D

D

8

Real Valladolid

Valladolid

1
0
1
0
0
1

L

L

L

W

D

9

Celta Vigo

Celta

1
0
1
0
0
1

D

L

L

D

D

10

Eibar

Eibar

2
0
1
1
-1
1

D

W

W

L

D

11

Atlético Madrid

Atlético

0
0
0
0
0
0

W

D

W

W

D

12

Barcelona

Barcelona

0
0
0
0
0
0

W

W

W

L

W

13

Elche CF

Elche

0
0
0
0
0
0
14

Getafe

Getafe

0
0
0
0
0
0

D

L

D

L

L

15

Real Madrid

Real Madrid

0
0
0
0
0
0

W

W

W

W

D

16

Seville

Sevilla

0
0
0
0
0
0

W

W

W

D

W

17

Alaves

Alavés

1
0
0
1
-1
0

L

D

W

L

L

18

Levante

Levante

1
0
0
1
-2
0

L

L

W

W

L

19

Athletic Bilbao

Bilbao

1
0
0
1
-2
0

L

W

L

L

L

20

Cádiz

Cádiz

1
0
0
1
-2
0

L
| | | |
| --- | --- | --- |
| Getafe CF | 2020-09-19 16:30:00 1 - 0 | CA Osasuna |
| Inter Milan | 2020-08-05 19:00:00 2 - 0 | Getafe CF |
| Levante UD | 2020-07-19 19:00:00 1 - 0 | Getafe CF |
| Getafe CF | 2020-07-16 19:00:00 0 - 2 | Atlético de Madrid |
| Alaves | 2020-07-13 17:30:00 0 - 0 | Getafe CF |
| Getafe CF | 2020-07-08 18:30:00 1 - 3 | Villarreal CF |
| | | |
| --- | --- | --- |
| Getafe CF | 2020-09-19 16:30:00 1 - 0 | CA Osasuna |
| Cádiz | 2020-09-12 19:00:00 0 - 2 | CA Osasuna |
| CA Osasuna | 2020-07-19 19:00:00 2 - 2 | RCD Mallorca |
| FC Barcelona | 2020-07-16 19:00:00 1 - 2 | CA Osasuna |
| CA Osasuna | 2020-07-11 15:00:00 2 - 1 | Celta de Vigo |
| Real Betis | 2020-07-08 18:30:00 3 - 0 | CA Osasuna |
| | | |
| --- | --- | --- |
| Getafe CF | 2020-07-16 00:00:00 0 - 2 | Atlético de Madrid |
| Getafe CF | 2020-07-08 00:00:00 1 - 3 | Villarreal CF |
| Getafe CF | 2020-06-29 00:00:00 2 - 1 | Real Sociedad |
| Getafe CF | 2020-06-20 00:00:00 1 - 1 | Eibar |
| Getafe CF | 2020-06-16 00:00:00 0 - 0 | Espanyol |
| Getafe CF | 2020-03-07 00:00:00 0 - 0 | Celta de Vigo |
| | | |
| --- | --- | --- |
| Cádiz | 2020-09-12 00:00:00 0 - 2 | CA Osasuna |
| FC Barcelona | 2020-07-16 00:00:00 1 - 2 | CA Osasuna |
| Real Betis | 2020-07-08 00:00:00 3 - 0 | CA Osasuna |
| Eibar | 2020-07-02 00:00:00 0 - 2 | CA Osasuna |
| Alaves | 2020-06-24 00:00:00 0 - 1 | CA Osasuna |
| Valencia CF | 2020-06-21 00:00:00 2 - 0 | CA Osasuna |
| | |
| --- | --- |
| Jaime Mata | 11 |
| Ángel Rodríguez | 10 |
| Jorge Molina | 5 |
| David Timor | 3 |
| Leandro Cabrera | 2 |
| | |
| --- | --- |
| Adrian López | 1 |
| Rubén García | 1 |
| | | |
| --- | --- | --- |
| Getafe CF | 2020-09-19 16:30:00 | CA Osasuna |
| Alaves | 2020-09-27 15:00:00 | Getafe CF |
| Getafe CF | 2020-09-30 00:00:00 | Real Betis |
| Real Sociedad | 2020-10-04 00:00:00 | Getafe CF |
| Getafe CF | 2020-10-18 00:00:00 | FC Barcelona |
| Getafe CF | 2020-10-25 00:00:00 | Granada CF |
| Valencia CF | 2020-11-01 00:00:00 | Getafe CF |
| Getafe CF | 2020-11-08 00:00:00 | Villarreal CF |
| Eibar | 2020-11-22 00:00:00 | Getafe CF |
| Getafe CF | 2020-11-29 00:00:00 | Athletic Bilbao |
| | | |
| --- | --- | --- |
| Getafe CF | 2020-09-19 16:30:00 | CA Osasuna |
| CA Osasuna | 2020-09-27 15:00:00 | Levante UD |
| Granada CF | 2020-09-30 00:00:00 | CA Osasuna |
| CA Osasuna | 2020-10-04 00:00:00 | Celta de Vigo |
| Eibar | 2020-10-18 00:00:00 | CA Osasuna |
| CA Osasuna | 2020-10-25 00:00:00 | Athletic Bilbao |
| CA Osasuna | 2020-11-01 00:00:00 | Atlético de Madrid |
| Sevilla FC | 2020-11-08 00:00:00 | CA Osasuna |
| CA Osasuna | 2020-11-22 00:00:00 | SD Huesca |
| FC Barcelona | 2020-11-29 00:00:00 | CA Osasuna |
Eibar
Athletic Bilbao
2020-09-25 19:00:00
{{ props.days }}d

{{ props.hours }}h {{ props.minutes }}m

{{ props.seconds }}s
Preview & Prediction »
Matsumoto Yamaga
FC Ryukyu
2020-09-23 10:00:00
{{ props.days }}d

{{ props.hours }}h {{ props.minutes }}m

{{ props.seconds }}s
Preview & Prediction »
Shanghai Shenhua
Jiangsu Suning
2020-09-21 11:35:00
{{ props.days }}d

{{ props.hours }}h {{ props.minutes }}m

{{ props.seconds }}s
Preview & Prediction »
Los Angeles FC
Vancouver Whitecaps
2020-09-24 02:30:00
{{ props.days }}d

{{ props.hours }}h {{ props.minutes }}m

{{ props.seconds }}s
Preview & Prediction »
IK Sirius
Falkenberg
2020-09-21 17:00:00
{{ props.days }}d

{{ props.hours }}h {{ props.minutes }}m

{{ props.seconds }}s
Preview & Prediction »
Norrby IF
GIF Sundsvall
2020-09-22 17:00:00
{{ props.days }}d

{{ props.hours }}h {{ props.minutes }}m

{{ props.seconds }}s
Preview & Prediction »