UD Almería vs CD Lugo Live Stream, Predictions
Return to this page a few days before the scheduled game when this expired prediction will be updated with our full preview and tips for the next match between these teams.
Full-Time Result Prediction
Predicted Lineups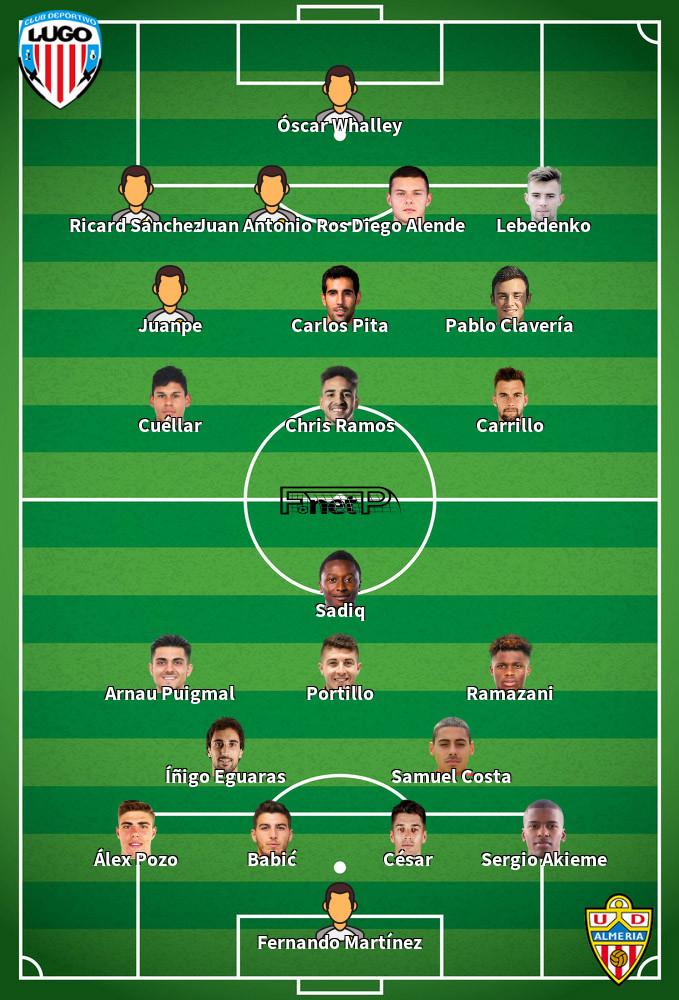 ⚽️ Team Focus:
UD Almería
Formed: 1989
Stadium: Estadio de los Juegos Mediterráneos (15,274)
Captain: César de la Hoz
Chairman: Turki Al-Sheikh
Manager: Joan Rubi
Competitions: La Liga 2 position 2
🔑 Key Player: Dyego Sousa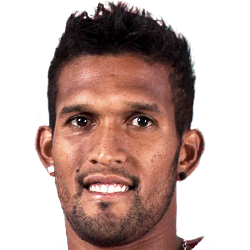 Regularly taking up the Striker position, Dyego Sousa was born in São Luís, Brazil. Having made his senior debut playing for Marítimo in the 2014 - 2015 season, the talented Forward has managed 5 league goals in this LaLiga2 2021 - 2022 campaign so far from a total of 16 appearances.
| | | |
| --- | --- | --- |
| Leganés | 2022-05-29 18:00:00 2 - 2 | UD Almería |
| UD Almería | 2022-05-21 20:00:00 1 - 1 | AD Alcorcón |
| Real Sociedad B | 2022-05-13 19:00:00 0 - 2 | UD Almería |
| UD Almería | 2022-05-07 16:15:00 3 - 0 | Amorebieta |
| Burgos | 2022-04-30 18:30:00 0 - 2 | UD Almería |
| UD Almería | 2022-04-25 19:00:00 1 - 0 | Sporting Gijón |
| | | |
| --- | --- | --- |
| CD Lugo | 2022-05-28 16:15:00 1 - 0 | Málaga |
| Real Zaragoza | 2022-05-20 19:00:00 1 - 0 | CD Lugo |
| CD Lugo | 2022-05-14 14:00:00 1 - 3 | Fuenlabrada |
| Ibiza | 2022-05-08 16:15:00 1 - 1 | CD Lugo |
| CD Lugo | 2022-05-01 16:15:00 0 - 2 | Tenerife |
| CD Lugo | 2022-04-24 16:30:00 0 - 0 | Leganés |
| | |
| --- | --- |
| Umar Sadiq | 18 |
| Largie Ramazani | 8 |
| Arnau Puigmal | 5 |
| Dyego Sousa | 5 |
| José Carlos Lazo | 5 |
| | |
| --- | --- |
| Carrillo | 9 |
| Chris Ramos | 7 |
| Manu Barreiro | 7 |
| Josep Seńé | 4 |
| Sebas Moyano | 3 |
| | | |
| --- | --- | --- |
| UD Almería | 2022-08-14 20:00:00 | Real Madrid |
| Elche CF | 2022-08-22 18:00:00 | UD Almería |
| UD Almería | 2022-08-27 20:00:00 | Sevilla |
| Real Valladolid | 2022-09-04 00:00:00 | UD Almería |
| UD Almería | 2022-09-11 00:00:00 | Osasuna |
| Mallorca | 2022-09-18 00:00:00 | UD Almería |
| Athletic Bilbao | 2022-10-02 00:00:00 | UD Almería |
| UD Almería | 2022-10-09 00:00:00 | Rayo Vallecano |
| Real Betis | 2022-10-16 00:00:00 | UD Almería |
| UD Almería | 2022-10-19 00:00:00 | Girona FC |
| | | |
| --- | --- | --- |
| CD Lugo | 2022-08-15 17:30:00 | Albacete |
| Tenerife | 2022-08-21 20:00:00 | CD Lugo |
| CD Lugo | 2022-08-28 00:00:00 | Leganés |
| Real Zaragoza | 2022-09-04 00:00:00 | CD Lugo |
| CD Lugo | 2022-09-11 00:00:00 | Alaves |
| Villarreal CF B | 2022-09-18 00:00:00 | CD Lugo |
| CD Lugo | 2022-09-25 00:00:00 | Real Oviedo |
| Ibiza | 2022-10-02 00:00:00 | CD Lugo |
| SD Huesca | 2022-10-09 00:00:00 | CD Lugo |
| CD Lugo | 2022-10-12 00:00:00 | UD Las Palmas |