Celta Vigo vs Elche CF Live Stream, Predictions
Return to this page a few days before the scheduled game when this expired prediction will be updated with our full preview and tips for the next match between these teams.
Full-Time Result Prediction
Celta Vigo face off with guests Elche CF at Estadio Abanca-Balaídos in the La Liga meeting on Saturday.
Scroll down for all of our predictions, poll and stats for the Celta Vigo v Elche CF game - as well as the best betting odds.
Both Teams to Score Prediction
📏 Form Guide

Celta Vigo
Celta Vigo will be wanting a better result here after a 3-1 La Liga loss in their previous game against Barcelona.
In that game, Celta Vigo managed 46% possession and 13 shots on goal with 5 on target. The only player to score for Celta Vigo was Iago Aspas (50'). At the other end, FC Barcelona had 10 shots at goal with 4 of them on target. Memphis Depay (30') and Pierre-Emerick Aubameyang (41', 48') scored for Barcelona.
Eduardo Coudet's Celta Vigo have scored 8 times in their past 6 outings. The corresponding tally of goals that they have conceded in that same time amounts to 7.

Elche CF
Following on from being beaten in their last game against Atlético Madrid in La Liga competition, Elche CF and their fans will hope to get a better result this time.
In that match, Elche CF managed 56% possession and 9 attempts at goal with 0 on target. At the other end, Atlético de Madrid got 11 shots on goal with 6 on target. Matheus Cunha (28') and Rodrigo De Paul (62') scored for Atlético Madrid.
In the course of their 6 most recent matches, Francisco Rodríguez's Elche CF have had reason to celebrate scoring a total of 6 times thus yielding them the goals scored per game average of 1.
Coming into this fixture, Elche CF have not won against Celta Vigo when having played them away from home in the previous 2 matches in the league.
↔️ Head to head
If we look at their past head to head duels going back to 01/03/2014, both clubs have shared the honours with Celta Vigo winning 2 of those games, Elche CF 2 and 2 being draws after 90 minutes of play.
In all, 11 goals were scored between the two sides during those clashes, with 6 from Os Celestes and 5 created by Los Franjiverdes. The average goals per game has been 1.83.
The previous league meeting between these clubs was La Liga match day 8 on 03/10/2021 when it ended Elche CF 1-0 Celta Vigo.
That day, Elche CF managed 45% possession and 12 attempts on goal with 5 on target. The scorer was Darío Benedetto (49').
At the other end, Celta Vigo had 10 shots on goal with 1 on target.
The match was refereed by José Luis Munuera Montero.
📰 Team News: Celta Vigo
The Celta Vigo manager Eduardo Coudet will be grateful to have no fitness worries whatsoever coming into this game thanks to a fully injury-free squad available for selection.
📰 Team News: Elche CF
Due to a completely injury-free squad to pick from, the Elche CF manager Francisco Rodríguez has no fitness concerns to report coming into this match.
💡 Prediction
In this match, Elche CF will likely create enough chances to find the net against this Celta Vigo side, however that isn't expected to be enough to prevent defeat.

We're tipping a 2-1 advantage for Celta Vigo when the full-time whistle blows. Should be an interesting one.
Our expert partners are tipping under 3.5 goals for this match. Check out their VIP predictions here.
Victor Martins, 00:39 11/05/2022
Predicted Lineups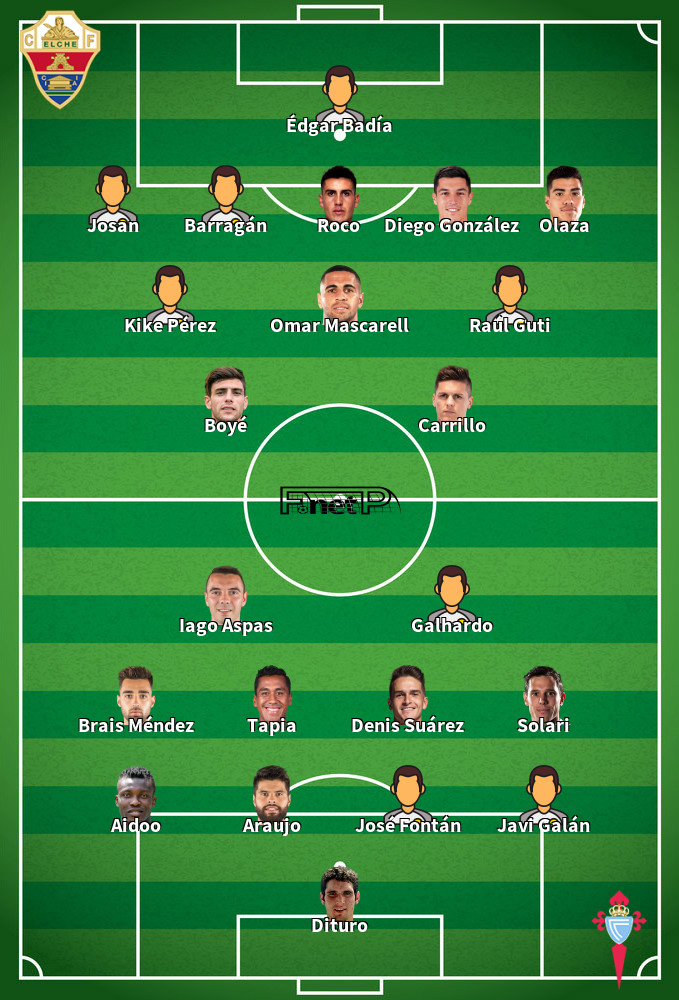 | | | |
| --- | --- | --- |
| Elche CF | 2021-10-03 12:00:00 1 - 0 | Celta de Vigo |
| Celta de Vigo | 2021-02-12 20:00:00 3 - 1 | Elche CF |
| Elche CF | 2020-11-06 20:00:00 1 - 1 | Celta de Vigo |
| Celta de Vigo | 2015-03-02 19:45:00 1 - 1 | Elche CF |
| Elche CF | 2014-09-26 19:00:00 0 - 1 | Celta de Vigo |
| Elche CF | 2014-03-01 21:00:00 1 - 0 | Celta de Vigo |
Pos
Team
Pld
W
D
L
+/-
Pts
Form
1

Real Madrid

Real Madrid

36
26
6
4
49
84

W

W

W

L

W

2

Barcelona

Barcelona

36
21
9
6
32
72

W

L

W

W

W

3

Atlético Madrid

Atlético

36
20
7
9
21
67

W

D

L

W

W

4

Sevilla

Sevilla

36
17
15
4
22
66

L

W

D

D

D

5

Real Betis

Real Betis

36
18
7
11
20
61

D

L

D

L

W

6

Real Sociedad

Sociedad

36
16
11
9
3
59

D

L

D

L

W

7

Villarreal

Villarreal

36
15
11
10
25
56

W

W

L

D

W

8

Athletic Bilbao

Bilbao

36
13
13
10
6
52

L

W

W

D

L

9

Osasuna

Osasuna

36
12
11
13
-10
47

W

L

D

D

D

10

Valencia

Valencia

37
10
15
12
-7
45

L

D

D

L

D

11

Celta Vigo

Celta

36
11
10
15
1
43

W

L

D

W

L

12

Rayo Vallecano

Rayo

36
11
9
16
-8
42

W

W

D

D

L

13

Espanyol

Espanyol

37
10
11
16
-13
41

L

L

D

L

D

14

Elche CF

Elche

36
10
9
17
-13
39

W

W

D

L

L

15

Getafe

Getafe

36
8
14
14
-6
38

L

W

D

D

D

16

Granada

Granada

36
8
13
15
-15
37

L

D

D

W

W

17

Cádiz

Cádiz

36
7
14
15
-17
35

W

L

D

W

L

18

Mallorca

Mallorca

36
8
9
19
-30
33

L

W

L

L

D

19

Alaves

Alavés

36
8
7
21
-31
31

W

L

W

L

W

20

Levante

Levante

36
6
11
19
-29
29

W

L

D

W

L
| | | |
| --- | --- | --- |
| Celta de Vigo | 2022-05-15 17:30:00 1 - 0 | Elche CF |
| FC Barcelona | 2022-05-10 19:30:00 3 - 1 | Celta de Vigo |
| Celta de Vigo | 2022-05-07 16:30:00 4 - 0 | Alaves |
| Granada CF | 2022-05-01 14:15:00 1 - 1 | Celta de Vigo |
| Celta de Vigo | 2022-04-20 18:00:00 0 - 2 | Getafe CF |
| Athletic Bilbao | 2022-04-17 16:30:00 0 - 2 | Celta de Vigo |
| | | |
| --- | --- | --- |
| Celta de Vigo | 2022-05-15 17:30:00 1 - 0 | Elche CF |
| Elche CF | 2022-05-11 19:30:00 0 - 2 | Atlético de Madrid |
| Cádiz | 2022-05-07 16:30:00 3 - 0 | Elche CF |
| Elche CF | 2022-05-01 12:00:00 1 - 1 | CA Osasuna |
| Real Betis | 2022-04-19 19:00:00 0 - 1 | Elche CF |
| Elche CF | 2022-04-16 12:00:00 3 - 0 | RCD Mallorca |
| | | |
| --- | --- | --- |
| Celta de Vigo | 2022-05-07 00:00:00 4 - 0 | Alaves |
| Celta de Vigo | 2022-04-20 00:00:00 0 - 2 | Getafe CF |
| Celta de Vigo | 2022-04-02 00:00:00 1 - 2 | Real Madrid CF |
| Celta de Vigo | 2022-03-20 00:00:00 0 - 0 | Real Betis |
| Celta de Vigo | 2022-03-06 00:00:00 4 - 3 | RCD Mallorca |
| Celta de Vigo | 2022-02-21 00:00:00 1 - 1 | Levante UD |
| | | |
| --- | --- | --- |
| Cádiz | 2022-05-07 00:00:00 3 - 0 | Elche CF |
| Real Betis | 2022-04-19 00:00:00 0 - 1 | Elche CF |
| Athletic Bilbao | 2022-04-03 00:00:00 2 - 1 | Elche CF |
| Granada CF | 2022-03-12 00:00:00 0 - 1 | Elche CF |
| Levante UD | 2022-02-25 00:00:00 3 - 0 | Elche CF |
| Sevilla FC | 2022-02-11 00:00:00 2 - 0 | Elche CF |
| | |
| --- | --- |
| Goals scored | 1.4 |
| Goals conceded | 1.3 |
| Time first goal scored | 41 |
| Time first goal conceded | 37 |
| Yellow cards | 2.2 |
| Red cards | 0.1 |
| Subs used | 4.2 |
| Biggest victory | 4-0 |
| Biggest defeat | 2-0 |
| | |
| --- | --- |
| Goals scored | 0.9 |
| Goals conceded | 1.7 |
| Time first goal scored | 47 |
| Time first goal conceded | 44 |
| Yellow cards | 2.8 |
| Red cards | 0.1 |
| Subs used | 4.7 |
| Biggest victory | 2-1 |
| Biggest defeat | 4-1 |
| | |
| --- | --- |
| Iago Aspas | 18 |
| Santi Mina | 7 |
| Brais Méndez | 4 |
| Franco Cervi | 4 |
| Denis Suárez | 3 |
| | |
| --- | --- |
| Pere Milla | 8 |
| Lucas Boyé | 7 |
| Fidel | 5 |
| Tete Morente | 3 |
| Darío Benedetto | 2 |
| | | |
| --- | --- | --- |
| Celta de Vigo | 2022-05-14 19:00:00 | Elche CF |
| Valencia CF | 2022-05-22 16:30:00 | Celta de Vigo |
| | | |
| --- | --- | --- |
| Celta de Vigo | 2022-05-14 19:00:00 | Elche CF |
| Elche CF | 2022-05-22 16:30:00 | Getafe CF |