Chicago Fire vs Columbus Crew Prediction & Betting Tips
Return to this page a few days before the scheduled game when this expired prediction will be updated with our full preview and tips for the next match between these teams.
Chicago Fire take on Columbus Crew in Saturday's MLS fixture.
Our Chicago Fire v Columbus Crew tips, poll and stats can be seen in full below (inc. the best betting odds).
📊 Form Guide
Chicago Fire
L
L
W
L
D
L
Chicago Fire will be looking to improve on their last outing here following the 1-2 MLS loss in their previous game against New Eng. Revolution.
In that match, Chicago Fire had 62% possession and 17 shots on goal with 6 on target. The scorer for Chicago Fire was Herbers (22'). For their opponents, New Eng. Revolution had 9 shots at goal with 3 of them on target. Bunbury (3', 54') scored for New Eng. Revolution.
Over their prior 6 fixtures, Raphaël Wicky's Chicago Fire have scored a total of 5 times resulting in an average number of goals scored per match equal to 0.83.
Columbus Crew
D
W
L
D
W
W
Columbus Crew head into the meeting following a 3-0 MLS win to defeat FC Cincinatti in their most recent fixture.
In that game, Columbus Crew had 59% possession and 18 attempts on goal with 6 of them on target. For Columbus Crew, the goalscorers were Santos (52') and Zardes (64', 71').
The trend of at least one team not managing to score in games involving Columbus Crew has become evident recently. Looking at their last 6 games shows that this has occurred 5 times. In these clashes, their opponents have managed a goal total of 2 and The Crew have scored 8. That sort of trend isn't assured to follow through into this match, though.
🤜🤛 Head to head
Looking at their past head to head meetings stretching back to 08/04/2018 tells us that Chicago Fire have won 1 of these games & Columbus Crew 2, with the tally of drawn games standing at 3.
A combined sum of 15 goals were scored between them in these games, with 5 of them from Men in Red and 10 netted by The Crew. The average number of goals per game works out to 2.5.
The last league meeting featuring these clubs was MLS match day 4 on 20/08/2020 when the final score was Columbus Crew 3-0 Chicago Fire.
On that day, Columbus Crew had 54% possession and 9 shots on goal with 4 on target. The scorers were Etienne (20'), Nagbe (81') and Zardes (88').
On the other side, Chicago Fire got 11 attempts on goal with 3 on target.
The referee was Guido Gonzalez.
📋 Team News: Chicago Fire
Chicago Fire manager Raphaël Wicky does not have any fitness concerns whatsoever before this game thanks to a fully healthy squad available for selection.
It's our opinion that Men in Red could use a 4-2-3-1 system for this game and select Bobby Shuttleworth, Miguel Ángel Navarro, Francisco Calvo, Mauricio Pineda, Boris Sekulic, Gastón Giménez, Álvaro Medrán, Fabian Herbers, Ignacio Aliseda, Przemyslaw Frankowski and Robert Beric.
📋 Team News: Columbus Crew
Due to a completely injury-free group available to choose from, Columbus Crew boss Caleb Porter has no fitness concerns to report coming into this clash.
We are inclined to think that The Crew appear most likely to play in a 4-2-3-1 lineup, starting the game with Eloy Room, Harrison Afful, Jonathan Mensah, Josh Williams, Milton Valenzuela, Sebastian Berhalter, Artur, Pedro Santos, Darlington Nagbe, Luis Díaz and Gyasi Zardes.
🔮 Prediction
In our view, Columbus Crew and Chicago Fire may both find scoring difficult here.

A draw is a real possibility, as a clear-cut winner doesn't appear to be obvious. Our tip is therefore for a tight encounter with a 0-0 draw at the end of the 90.
Lucas Pereira, 23:14 08/09/2020
Over/Under 2.5 Goals Prediction for Chicago Fire vs Columbus Crew
Predicted Lineups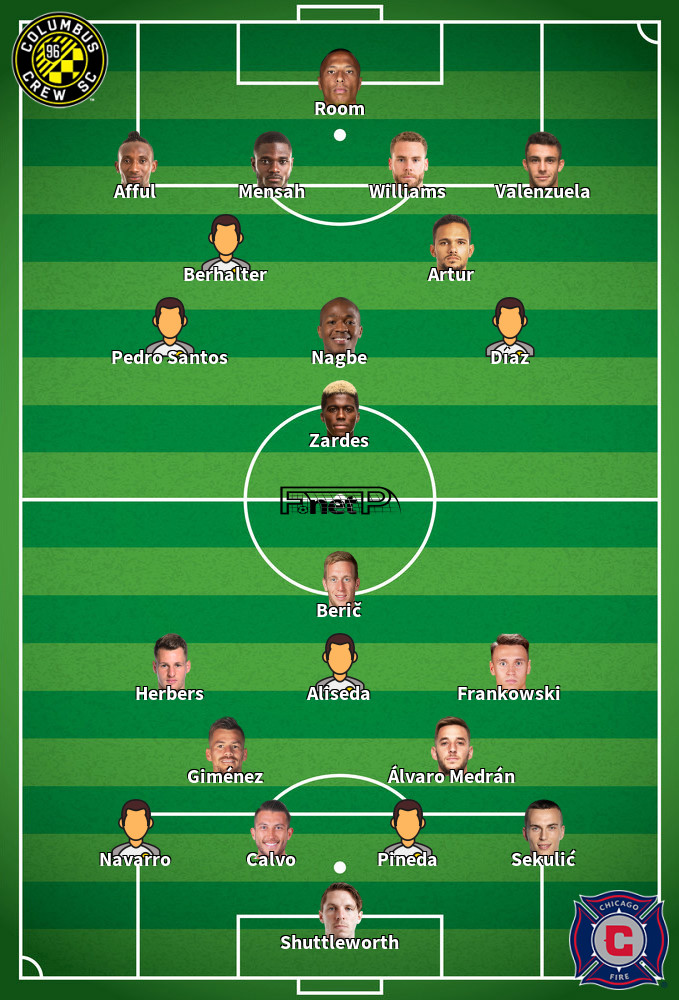 | | | |
| --- | --- | --- |
| Columbus Crew | 2020-08-20 23:30:00 3 - 0 | Chicago Fire |
| Columbus Crew | 2019-08-31 23:30:00 1 - 1 | Chicago Fire |
| Chicago Fire | 2019-07-18 00:00:00 2 - 2 | Columbus Crew |
| Chicago Fire | 2018-08-23 23:00:00 1 - 1 | Columbus Crew |
| Columbus Crew | 2018-05-12 23:30:00 3 - 0 | Chicago Fire |
| Chicago Fire | 2018-04-08 00:30:00 1 - 0 | Columbus Crew |
| | | |
| --- | --- | --- |
| Orlando City | 2020-09-19 23:30:00 4 - 1 | Chicago Fire |
| Chicago Fire | 2020-09-12 19:30:00 2 - 2 | Columbus Crew |
| Chicago Fire | 2020-09-06 23:30:00 1 - 2 | New Eng. Revolution |
| FC Cincinatti | 2020-09-02 23:30:00 0 - 0 | Chicago Fire |
| New York City FC | 2020-08-29 23:30:00 3 - 1 | Chicago Fire |
| Chicago Fire | 2020-08-25 23:30:00 3 - 0 | FC Cincinatti |
| | | |
| --- | --- | --- |
| Columbus Crew | 2020-09-19 23:30:00 2 - 0 | Nashville |
| Chicago Fire | 2020-09-12 19:30:00 2 - 2 | Columbus Crew |
| Columbus Crew | 2020-09-06 23:30:00 3 - 0 | FC Cincinatti |
| Columbus Crew | 2020-09-02 23:30:00 1 - 0 | Philadelphia Union |
| FC Cincinatti | 2020-08-29 23:30:00 0 - 0 | Columbus Crew |
| New York City FC | 2020-08-24 23:00:00 1 - 0 | Columbus Crew |
| | | |
| --- | --- | --- |
| Chicago Fire | 2020-09-23 23:30:00 | Houston Dynamo |
| Chicago Fire | 2020-09-27 23:30:00 | Atlanta United |
| | | |
| --- | --- | --- |
| Columbus Crew | 2020-09-23 23:30:00 | Minnesota United |
| Toronto FC | 2020-09-27 23:30:00 | Columbus Crew |
New Eng. Revolution
Montreal Impact
2020-09-23 21:00:00
{{ props.days }}d

{{ props.hours }}h {{ props.minutes }}m

{{ props.seconds }}s
Preview & Prediction »
Atlanta United
FC Dallas
2020-09-23 23:00:00
{{ props.days }}d

{{ props.hours }}h {{ props.minutes }}m

{{ props.seconds }}s
Preview & Prediction »
New York City FC
Toronto FC
2020-09-23 23:00:00
{{ props.days }}d

{{ props.hours }}h {{ props.minutes }}m

{{ props.seconds }}s
Preview & Prediction »
Chicago Fire
Houston Dynamo
2020-09-23 23:30:00
{{ props.days }}d

{{ props.hours }}h {{ props.minutes }}m

{{ props.seconds }}s
Preview & Prediction »
FC Cincinatti
Philadelphia Union
2020-09-23 23:30:00
{{ props.days }}d

{{ props.hours }}h {{ props.minutes }}m

{{ props.seconds }}s
Preview & Prediction »
Columbus Crew
Minnesota United
2020-09-23 23:30:00
{{ props.days }}d

{{ props.hours }}h {{ props.minutes }}m

{{ props.seconds }}s
Preview & Prediction »