Club Tijuana
FC Juárez
2020-09-21 02:00:00
{{ props.days }}d

{{ props.hours }}h {{ props.minutes }}m

{{ props.seconds }}s
Liga MX (Apertura)
Club Tijuana vs FC Juárez Prediction & Betting Tips
Return to this page a few days before the scheduled game when this expired prediction will be updated with our full preview and tips for the next match between these teams.
The Liga MX (Apertura) game at Estadio Caliente on Saturday will see hosts Club Tijuana welcome FC Juárez.
Scroll down to see all of the predictions, poll and statistics for Club Tijuana v FC Juárez - as well as up-to-date odds.
📏 Form Guide
Club Tijuana
L
W
L
W
L
L
Club Tijuana won't want a repeat of their last result here after a 1-2 Liga MX (Apertura) defeat in their last game at the hands of Cruz Azul.
In that match, Club Tijuana managed 52% possession and 13 attempts at goal with 6 of them on target. The only player to score for Club Tijuana was Edgar López (10'). Cruz Azul got 13 attempts at goal with 4 on target. Santiago Giménez (48') and Jonathan Rodríguez (82') scored for Cruz Azul.
It has been a rare occasion in recent games that Club Tijuana have shown defensive steel. The reality is that Xoloitzcuintles have failed to prevent opponents from scoring in 5 of their previous 6 games, giving up 9 goals during that time.
FC Juárez
L

D

L

D

W

W

🌤

FC Juárez come into this game following a 1-0 Liga MX (Apertura) win as they beat Puebla in their previous game.

The only player to score from FC Juárez was Dario Lezcano (7').

Gabriel Caballero's FC Juárez have managed to stick the ball in the net 6 times throughout their latest six matches. The overall goals that they have conceded during the equivalent period comes to 6.
↔️ Head to head
The last league clash between these sides was Liga MX (Apertura) match day 17 on 04/11/2019 when the final score was FC Juárez 3-0 Club Tijuana.
In that match, FC Juárez managed 44% possession and 9 attempts at goal with 7 of them on target. The goals were scored by Diego Rolán (44'), Carrijó (50') and Jefferson Intriago (58').
On the other side, Club Tijuana got 16 attempts at goal with 2 on target.
The match was refereed by Marco Ortiz.
🗞️ Team News: Club Tijuana
Club Tijuana manager Pablo Guede has zero fitness worries whatsoever coming into this match owing to a completely injury-free group available for selection.
It's our opinion that Xoloitzcuintles should line up in a 4-3-3 system this time, utilising Jonathan Orozco, Miguel Ángel Barbieri, Jordan Silva, Vladimir Eduardo Loroña, Jaime Gómez, Fabián Castillo, Kevin Balanta, Marcel Ruíz, Edgar López, Bryan Angulo and Mauro Laínez.
📋 Team News: FC Juárez
Due to a completely injury-free group available to select from, FC Juárez boss Gabriel Caballero does not have any fitness worries to report coming into this game.
We are inclined to think that Los Bravos appear most likely to begin the game with a 4-4-2 formation by sending out Enrique Palos, Ivan Vazquez, Alberto Acosta Alvarado Joshimar, Bruno Romo, Maximiliano Olivera, Jesus Zavala, Jefferson Intriago, Marco Fabian, Flavio Santos, Erick Castillo and Dario Lezcano.
💭 Prediction
In our view, FC Juárez might have a difficult job to be putting a goal past this Club Tijuana lineup who we think should just have the edge.

We're therefore seeing a hard-fought contest, finishing with a 1-0 winning score for Club Tijuana when the full-time whistle blows.

Looking forward to watching this one unfold.
Renata Leite, 23:14 14/09/2020
Over/Under 2.5 Goals Prediction for Club Tijuana vs FC Juárez
Predicted Lineups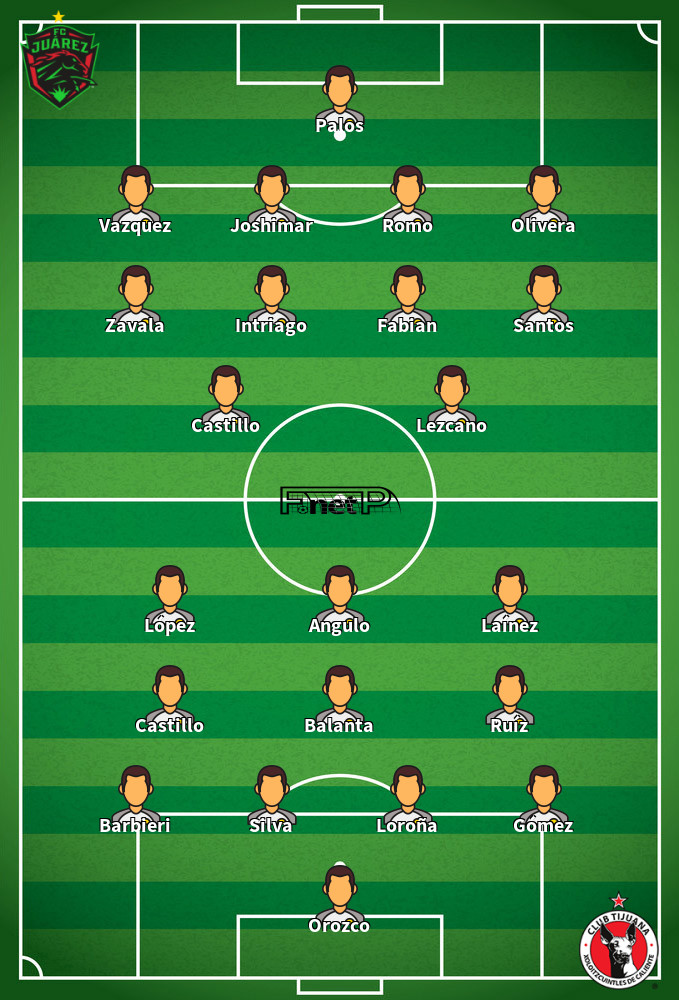 | | | |
| --- | --- | --- |
| FC Juárez | 2019-11-04 01:00:00 3 - 0 | Club Tijuana |
Pos
Team
Pld
W
D
L
+/-
Pts
Form
1

Cruz Azul

Cruz Azul

11
8
1
2
11
25

W

L

W

W

W

2

Club América

América

11
7
2
2
7
23

W

W

W

D

W

3

Universidad Nacional

Pumas

10
6
4
0
12
22

D

W

W

W

W

4

León

León

10
6
3
1
5
21

D

W

W

D

W

5

Pachuca

Pachuca

11
5
3
3
3
18

D

W

L

D

W

6

Tigres de la UANL

Tigres

11
4
5
2
6
17

D

L

D

W

W

7

Monterrey

Monterrey

11
4
5
2
4
17

W

W

L

D

D

8

CD Guadalajara

Chivas

11
4
3
4
1
15

D

W

D

W

L

9

Puebla

Puebla

11
4
1
6
0
13

W

L

L

L

W

10

FC Juárez

FC Juárez

10
3
4
3
-1
13

D

L

D

W

W

11

Toluca

Toluca

11
4
1
6
-7
13

L

L

L

D

L

12

Santos Laguna

Santos

11
3
3
5
-4
12

W

D

L

L

W

13

Querétaro FC

Querétaro

11
3
2
6
-1
11

L

W

D

L

L

14

Atlas

Atlas

11
2
4
5
-4
10

L

W

D

D

L

15

Mazatlán

Mazatlán

11
2
4
5
-6
10

D

L

W

D

L

16

Club Tijuana

Tijuana

10
3
1
6
-8
10

W

L

W

L

L

17

Atlético San Luis

At. San Luis

11
2
2
7
-8
8

L

L

L

W

L

18

Necaxa

Necaxa

11
2
2
7
-10
8

L

L

L

L

L
| | | |
| --- | --- | --- |
| Club Tijuana | 2020-09-14 02:06:00 1 - 2 | Cruz Azul |
| Mazatlán | 2020-09-10 02:00:00 1 - 0 | Club Tijuana |
| Club Tijuana | 2020-09-05 02:06:00 2 - 1 | Monterrey |
| Universidad Nacional | 2020-08-30 17:00:00 3 - 0 | Club Tijuana |
| Club Tijuana | 2020-08-24 02:06:00 1 - 0 | Puebla |
| León | 2020-08-18 02:00:00 2 - 1 | Club Tijuana |
| | | |
| --- | --- | --- |
| FC Juárez | 2020-09-12 02:30:00 1 - 0 | Puebla |
| Toluca | 2020-09-09 00:00:00 0 - 1 | FC Juárez |
| FC Juárez | 2020-09-05 02:30:00 1 - 1 | Santos Laguna |
| Monterrey | 2020-08-31 02:06:00 2 - 1 | FC Juárez |
| FC Juárez | 2020-08-22 02:30:00 0 - 0 | León |
| Cruz Azul | 2020-08-16 00:00:00 3 - 2 | FC Juárez |
| | | |
| --- | --- | --- |
| Club Tijuana | 2020-09-14 00:00:00 1 - 2 | Cruz Azul |
| Club Tijuana | 2020-09-05 00:00:00 2 - 1 | Monterrey |
| Club Tijuana | 2020-08-24 00:00:00 1 - 0 | Puebla |
| Club Tijuana | 2020-08-13 00:00:00 0 - 2 | Atlético San Luis |
| Club Tijuana | 2020-08-07 00:00:00 0 - 0 | Tigres de la UANL |
| Club Tijuana | 2020-07-26 00:00:00 3 - 1 | Atlas |
| | | |
| --- | --- | --- |
| Toluca | 2020-09-09 00:00:00 0 - 1 | FC Juárez |
| Monterrey | 2020-08-31 00:00:00 2 - 1 | FC Juárez |
| Cruz Azul | 2020-08-16 00:00:00 3 - 2 | FC Juárez |
| Universidad Nacional | 2020-08-09 00:00:00 1 - 1 | FC Juárez |
| Atlético San Luis | 2020-07-27 00:00:00 1 - 1 | FC Juárez |
| Tigres de la UANL | 2020-03-15 00:00:00 3 - 2 | FC Juárez |
| | |
| --- | --- |
| Goals scored | 1.2 |
| Goals conceded | 1 |
| Time first goal scored | 15 |
| Time first goal conceded | 30 |
| Yellow cards | 1.7 |
| Red cards | 0 |
| Subs used | 4.2 |
| Biggest victory | 3-1 |
| Biggest defeat | 2-0 |
| | |
| --- | --- |
| Goals scored | 1.2 |
| Goals conceded | 1.4 |
| Time first goal scored | 43 |
| Time first goal conceded | 36 |
| Yellow cards | 1.8 |
| Red cards | 0.4 |
| Subs used | 3.6 |
| Biggest victory | 1-0 |
| Biggest defeat | 3-2 |
| | |
| --- | --- |
| Bryan Angulo | 2 |
| Fabián Castillo | 2 |
| Miller Bolaños | 1 |
| Jordi Cortizo | 1 |
| Jaime Gómez | 1 |
| | |
| --- | --- |
| Dario Lezcano | 5 |
| Erick Castillo | 1 |
| Maximiliano Olivera | 1 |
| Brian Rubio | 1 |
| Víctor Velázquez | 1 |
| | | |
| --- | --- | --- |
| Club Tijuana | 2020-09-21 02:00:00 | FC Juárez |
| Santos Laguna | 2020-09-28 00:06:00 | Club Tijuana |
| Club Tijuana | 2020-10-05 02:00:00 | CD Guadalajara |
| Necaxa | 2020-10-17 00:30:00 | Club Tijuana |
| Toluca | 2020-10-25 17:00:00 | Club Tijuana |
| Club Tijuana | 2020-10-31 03:00:00 | Pachuca |
| Querétaro FC | 2020-11-09 03:00:00 | Club Tijuana |
| | | |
| --- | --- | --- |
| FC Juárez | 2020-09-26 02:30:00 | Atlas |
| Club Tijuana | 2020-10-01 00:00:00 | FC Juárez |
| FC Juárez | 2020-10-06 00:00:00 | Pachuca |
| Mazatlán | 2020-10-17 02:30:00 | FC Juárez |
| Tigres de la UANL | 2020-10-25 00:00:00 | FC Juárez |
| FC Juárez | 2020-10-31 03:30:00 | Querétaro FC |
| FC Juárez | 2020-11-07 03:30:00 | Club América |
Pachuca
Toluca
2020-09-25 02:00:00
{{ props.days }}d

{{ props.hours }}h {{ props.minutes }}m

{{ props.seconds }}s
Preview & Prediction »
Puebla
Querétaro FC
2020-09-26 00:30:00
{{ props.days }}d

{{ props.hours }}h {{ props.minutes }}m

{{ props.seconds }}s
Preview & Prediction »
FC Juárez
Atlas
2020-09-26 02:30:00
{{ props.days }}d

{{ props.hours }}h {{ props.minutes }}m

{{ props.seconds }}s
Preview & Prediction »
CD Guadalajara
Mazatlán
2020-09-26 22:00:00
{{ props.days }}d

{{ props.hours }}h {{ props.minutes }}m

{{ props.seconds }}s
Preview & Prediction »
Universidad Nacional
Necaxa
2020-09-27 00:00:00
{{ props.days }}d

{{ props.hours }}h {{ props.minutes }}m

{{ props.seconds }}s
Preview & Prediction »
Monterrey
Tigres
2020-09-27 02:06:00
{{ props.days }}d

{{ props.hours }}h {{ props.minutes }}m

{{ props.seconds }}s
Preview & Prediction »