Varaždin vs Dinamo Zagreb Prediction & Betting Tips
Return to this page a few days before the scheduled game when this expired prediction will be updated with our full preview and tips for the next match between these teams.
Varaždin
take on visiting club
Dinamo Zagreb
at Stadion Anđelko Herjavec in the Prva Liga fixture on Saturday. To see all of our predictions, user poll & stats for Varaždin v Dinamo Zagreb, scroll down (inc. the best betting odds).
📏 Form Guide
Varaždin

L

W

L

DD

L
Varaždin will be looking for an improved result here after a 2-0 Prva Liga loss in their previous game against NK Osijek.
It's been a rare occasion in recent games where Varaždin have kept a clean sheet. The facts show that Bumbari have failed to prevent opponents from scoring in 5 of their previous 6 clashes, letting in 8 goals in the process.
Dinamo Zagreb

W

L

W

W

W

W
Dinamo Zagreb go into this game following on from a 2-0 Prva Liga win with the eclipse of Istra 1961 in their last game.
A tendency of at least one team not scoring a goal in games involving Dinamo Zagreb has become fairly consistent of late. Checking on their last 6 outings shows that it's occurred 5 times. In these clashes, opposing sides have hit a goal total of 3 while Plavi have scored 13. While that may be of interest, we must now wait to see whether such a trend might be replicated in this upcoming match or not.
👥 Head to head
An examination of their most recent head-to-head meetings dating back to 07/08/2010 tells us that Varaždin have won 1 of these games & Dinamo Zagreb 3, with the tally of draws being 2.
A combined sum of 17 goals were shared by the two clubs throughout the course of those matches, with 3 for Bumbari and 14 belonging to Plavi. This gives an average number of goals per game equal to 2.83.
The last league fixture between these sides was Prva Liga match day 18 on 06/12/2019 when it finished Dinamo Zagreb 1-0 Varaždin. The match was refereed by Marin Vidulin.
📰 Team News: Dinamo Zagreb
Due to a completely injury-free group available to select from, Dinamo Zagreb manager Nenad Bjelica doesn't have any fitness worries to speak of before this clash.
Peter Guest, 23:03 04/06/2020
Over/Under 2.5 Goals Prediction for Varaždin vs Dinamo Zagreb

⚽️ Team Focus:
Varaždin
Formed: 2012
Stadium: Stadion Anđelko Herjavec (8,818)
Captain: Leon Benko
Chairman: Stjepan Cvek
Manager: Samir Toplak
Competitions: Prva Liga position 10
⭐ Star Player: Dejan Glavica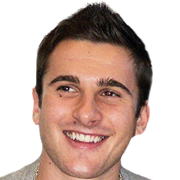 Typically taking up the Central Attacking Midfielder position, Dejan Glavica was born in Varaždin, Croatia. After having made a senior debut playing for Varaždin in the 2009 - 2010 season, the accomplished Midfielder has got 4 league goals in the Prva Liga 2019 - 2020 season to date in 17 appearances.
| | | |
| --- | --- | --- |
| Dinamo Zagreb | 2019-12-06 17:00:00 1 - 0 | Varaždin |
| Varaždin | 2019-09-21 17:00:00 1 - 0 | Dinamo Zagreb |
| Varaždin | 2012-03-24 17:00:00 0 - 4 | Dinamo Zagreb |
| Dinamo Zagreb | 2011-09-17 18:00:00 7 - 0 | Varaždin |
| Dinamo Zagreb | 2010-12-05 14:00:00 1 - 1 | Varaždin |
| Varaždin | 2010-08-07 18:15:00 1 - 1 | Dinamo Zagreb |
Pos
Team
Pld
W
D
L
+/-
Pts
Form
1

Dinamo Zagreb

Dinamo

26
21
2
3
40
65

L

W

W

W

W

2

Hajduk Split

Hajduk

27
14
6
7
19
48

W

D

L

L

W

3

Rijeka

Rijeka

26
14
5
7
11
47
D

W

L

W

W

4

Lokomotiva Zagreb

Lokomotiva

26
14
4
8
13
46

W

W

W

W

W

5

NK Osijek

Osijek

26
11
9
6
13
42

W

L

D

L

W

6

Gorica

Gorica

27
9
9
9
-8
36
D

L

W

D

L

7

Slaven Belupo

Slaven

27
7
6
14
-20
27

W

DD

L

W

8

Istra 1961

Istra

26
4
7
15
-21
19

L

D

L

W

L

9

Varaždin

Varaždin

26
3
8
15
-23
17

W

L

DD

L

10

Inter Zaprešic

Zaprešic

27
3
8
16
-24
17

L

L

L

L

L
| | | |
| --- | --- | --- |
| Lokomotiva Zagreb | 2020-06-30 16:55:00 2 - 0 | Varaždin |
| Varaždin | 2020-06-25 19:05:00 1 - 0 | Inter Zaprešic |
| Varaždin | 2020-06-20 19:05:00 3 - 0 | Istra 1961 |
| Hajduk Split | 2020-06-16 16:55:00 2 - 3 | Varaždin |
| Varaždin | 2020-06-12 16:55:00 0 - 0 | Rijeka |
| Varaždin | 2020-06-06 19:05:00 1 - 3 | Dinamo Zagreb |
| | | |
| --- | --- | --- |
| Inter Zaprešic | 2020-07-01 16:55:00 0 - 1 | Dinamo Zagreb |
| Dinamo Zagreb | 2020-06-27 18:00:00 0 - 0 | NK Osijek |
| Gorica | 2020-06-20 19:05:00 0 - 0 | Dinamo Zagreb |
| Dinamo Zagreb | 2020-06-17 16:55:00 3 - 2 | Slaven Belupo |
| Lokomotiva Zagreb | 2020-06-12 19:05:00 1 - 0 | Dinamo Zagreb |
| Varaždin | 2020-06-06 19:05:00 1 - 3 | Dinamo Zagreb |
| | | |
| --- | --- | --- |
| Varaždin | 2020-03-04 00:00:00 2 - 2 | Gorica |
| Varaždin | 2020-02-21 00:00:00 0 - 2 | Lokomotiva Zagreb |
| Varaždin | 2020-02-02 00:00:00 0 - 3 | Hajduk Split |
| Varaždin | 2019-11-30 00:00:00 1 - 1 | NK Osijek |
| Varaždin | 2019-11-09 00:00:00 0 - 0 | Slaven Belupo |
| Varaždin | 2019-10-25 00:00:00 0 - 1 | Inter Zaprešic |
| | | |
| --- | --- | --- |
| Hajduk Split | 2020-03-04 00:00:00 0 - 2 | Dinamo Zagreb |
| NK Osijek | 2020-02-16 00:00:00 1 - 0 | Dinamo Zagreb |
| Slaven Belupo | 2020-02-01 00:00:00 0 - 2 | Dinamo Zagreb |
| Istra 1961 | 2019-11-30 00:00:00 1 - 2 | Dinamo Zagreb |
| Rijeka | 2019-11-10 00:00:00 0 - 5 | Dinamo Zagreb |
| Gorica | 2019-10-18 00:00:00 2 - 4 | Dinamo Zagreb |
| | | |
| --- | --- | --- |
| Varaždin | 2020-07-04 19:05:00 | Slaven Belupo |
| Gorica | 2020-07-10 18:00:00 | Varaždin |
| Varaždin | 2020-07-18 16:55:00 | NK Osijek |
| Dinamo Zagreb | 2020-07-25 19:00:00 | Varaždin |
| | | |
| --- | --- | --- |
| Rijeka | 2020-07-05 19:05:00 | Dinamo Zagreb |
| Dinamo Zagreb | 2020-07-12 19:05:00 | Hajduk Split |
| Istra 1961 | 2020-07-18 19:05:00 | Dinamo Zagreb |
| Dinamo Zagreb | 2020-07-25 19:00:00 | Varaždin |
Istra
Gorica
2020-07-04 16:55:00
{{ props.days }}d

{{ props.hours }}h {{ props.minutes }}m

{{ props.seconds }}s
Preview & Prediction »
Lokomotiva Zagreb
Inter Zaprešic
2020-07-04 19:05:00
{{ props.days }}d

{{ props.hours }}h {{ props.minutes }}m

{{ props.seconds }}s
Preview & Prediction »
Varaždin
Slaven Belupo
2020-07-04 19:05:00
{{ props.days }}d

{{ props.hours }}h {{ props.minutes }}m

{{ props.seconds }}s
Preview & Prediction »
Hajduk Split
NK Osijek
2020-07-05 16:55:00
{{ props.days }}d

{{ props.hours }}h {{ props.minutes }}m

{{ props.seconds }}s
Preview & Prediction »
Rijeka
Dinamo Zagreb
2020-07-05 19:05:00
{{ props.days }}d

{{ props.hours }}h {{ props.minutes }}m

{{ props.seconds }}s
Preview & Prediction »
Crystal Palace
Chelsea
2020-07-07 17:00:00
{{ props.days }}d

{{ props.hours }}h {{ props.minutes }}m

{{ props.seconds }}s
Preview & Prediction »