Full-Time Result Prediction
Real Betis vs Real Valladolid Prediction & Betting Tips
Return to this page a few days before the scheduled game when this expired prediction will be updated with our full preview and tips for the next match between these teams.
Real Valladolid will arrive at Estadio Benito Villamarín on Monday for the La Liga clash with home side Real Betis.
Full predictions, stats & game poll for the Real Betis v Real Valladolid match are shown here - as well as the best betting odds.
Both Teams to Score Prediction
📊 Form Guide

Real Betis
Real Betis are hoping to win again following the 0-1 La Liga triumph over Alaves.
In that match, Real Betis managed 59% possession and 11 attempts at goal with 4 on target. The only player on the scoresheet for Real Betis was Tello (94'). At the other end, Alaves got 7 shots at goal with 2 of them on target.
Over their last six fixtures, Manuel Pellegrini's Real Betis have netted 6 times, with that being an average number of goals per match of 1.
Ahead of this clash, Real Betis haven't beaten Real Valladolid in their previous 2 league matches.

Real Valladolid
In their last fixture, Real Valladolid drew 1-1 in the La Liga match with Real Sociedad.
In that game, Real Valladolid had 40% possession and 8 shots at goal with 3 on target. The scorer for Real Valladolid was Michel Herrero (39'). Real Sociedad got 8 shots on goal with 2 of them on target. Roberto López (60') was the scorer for Real Sociedad.
Sergio González's Real Valladolid have slotted home a total of 6 times in the course of their latest 6 matches. The aggregate of goals that they have conceded during those matches adds up to 7.
Their previous form shows that Real Valladolid:
remain unbeaten by Real Betis when having played them away from home in the previous 2 matches in the league.
are without an away win for the past 4 league matches.
↔️ Head to head
A look at their most recent head-to-head meetings dating back to 05/10/2014 shows that Real Betis have won 2 of these & Real Valladolid 3, with the tally of drawn results standing at 1.
In all, 12 goals were yielded between them in this period, with 7 for Béticos and 5 coming from Pucela. The average number of goals per game works out to 2.
The previous league encounter between these clubs was LaLiga match day 38 on 19/07/2020 which finished with the scoreline of Real Valladolid 2-0 Real Betis.
In that game, Real Valladolid had 28% possession and 13 shots on goal with 4 of them on target. The goals were scored by Sergi Guardiola (45') and Óscar Plano (63').
Real Betis had 10 attempts at goal with 4 on target.
The match was refereed by Santiago Jaime Latre.
📋 Team News: Real Betis
Wilfrid Kaptoum (Muscle Injury), Dani Martín (Sprained ankle) and Víctor Camarasa (Cruciate Ligament Rupture) are unavailable for Real Betis boss Manuel Pellegrini.
It seems likely that Béticos will probably make use of the 4-2-3-1 system this time, utilising Claudio Bravo, Alex Moreno, Marc Bartra, Aissa Mandi, Emerson Aparecido, William Carvalho, Guido Rodriguez, Joaquin, Sergio Canales, Nabil Fekir and Borja Iglesias.
🗞️ Team News: Real Valladolid
Valladolid manager Sergio González has to choose a team with limited availability. Raúl Carnero (Muscle Injury) and Kiko Olivas (Ruptured knee ligament) will not be playing here.
It's our belief that Pucela will likely make use of a 4-4-2 system by sending out Roberto Jimenez, Javi Moyano, Joaquín Fernández, Bruno González, Nacho Martínez, Fabian Orellana, Míchel Javaloyas, Fede San Emeterio, Óscar Plano, Shon Weissman and Sergi Guardiola.
💡 Prediction
We're of the opinion that Real Valladolid have the capability to find the back of the net against this Real Betis team, however it may not quite be as many as they'll concede.

Our selection here is for both teams to score in a 2-1 win for Real Betis after 90 minutes. Expecting it to be very competitive.
Peter Guest, 23:19 16/09/2020
Predicted Lineups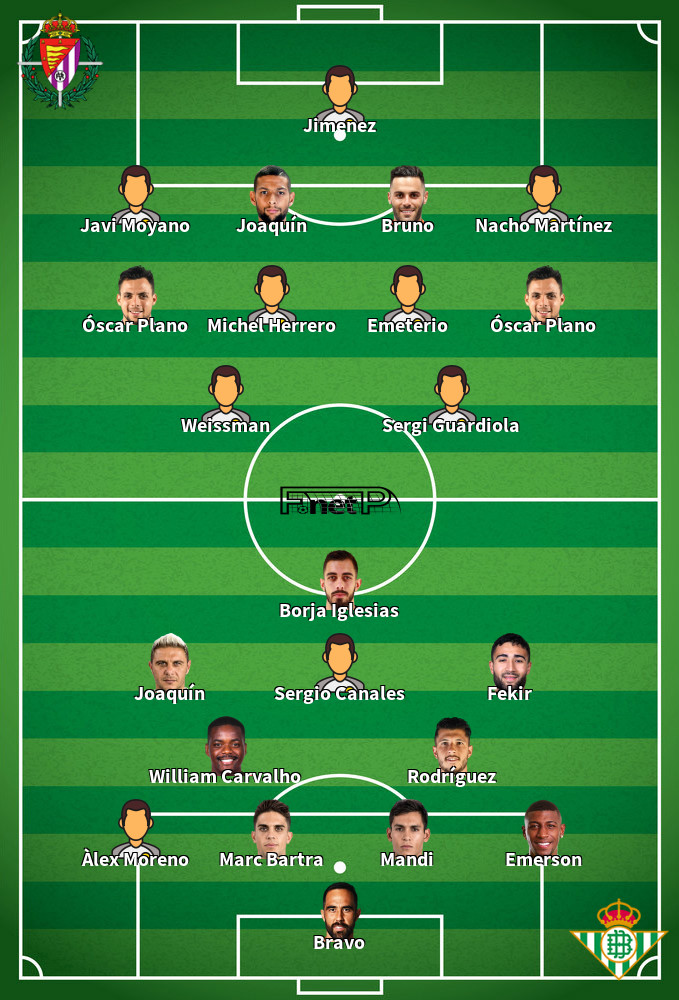 | | | |
| --- | --- | --- |
| Real Valladolid | 2020-07-19 16:30:00 2 - 0 | Real Betis |
| Real Betis | 2019-08-18 19:00:00 1 - 2 | Real Valladolid |
| Real Valladolid | 2019-02-24 17:30:00 0 - 2 | Real Betis |
| Real Betis | 2018-10-21 18:45:00 0 - 1 | Real Valladolid |
| Real Betis | 2015-03-08 11:00:00 4 - 0 | Real Valladolid |
| Real Valladolid | 2014-10-05 10:00:00 0 - 0 | Real Betis |
Pos
Team
Pld
W
D
L
+/-
Pts
Form
1

Villarreal

Villarreal

2
1
1
0
1
4

L

L

W

D

W

2

Celta Vigo

Celta

2
1
1
0
1
4

L

L

D

D

W

3

Granada

Granada

1
1
0
0
2
3

W

L

W

W

W

4

Valencia

Valencia

2
1
0
1
1
3

L

W

L

W

L

5

Osasuna

Osasuna

2
1
0
1
1
3

W

W

D

W

L

6

Getafe

Getafe

1
1
0
0
1
3

L

D

L

L

W

7

Real Betis

Real Betis

1
1
0
0
1
3

W

L

L

L

W

8

Cádiz

Cádiz

2
1
0
1
0
3

L

9

Real Sociedad

Sociedad

1
0
1
0
0
1

L

W

D

D

D

10

Real Valladolid

Valladolid

1
0
1
0
0
1

L

L

L

W

D

11

Eibar

Eibar

2
0
1
1
-1
1

W

W

L

D

L

12

SD Huesca

Huesca

2
0
1
1
-2
1

D

13

Atlético Madrid

Atlético

0
0
0
0
0
0

W

D

W

W

D

14

Barcelona

Barcelona

0
0
0
0
0
0

W

W

W

L

W

15

Elche CF

Elche

0
0
0
0
0
0
16

Real Madrid

Real Madrid

0
0
0
0
0
0

W

W

W

W

D

17

Sevilla

Sevilla

0
0
0
0
0
0

W

W

W

D

W

18

Alaves

Alavés

1
0
0
1
-1
0

L

D

W

L

L

19

Levante

Levante

1
0
0
1
-2
0

L

L

W

W

L

20

Athletic Bilbao

Bilbao

1
0
0
1
-2
0

L

W

L

L

L
| | | |
| --- | --- | --- |
| Atlético de Madrid | 2020-10-24 19:00:00 2 - 0 | Real Betis |
| Real Betis | 2020-10-18 19:00:00 0 - 3 | Real Sociedad |
| Valencia CF | 2020-10-03 19:00:00 0 - 2 | Real Betis |
| Getafe CF | 2020-09-29 19:30:00 3 - 0 | Real Betis |
| Real Betis | 2020-09-26 19:00:00 2 - 3 | Real Madrid CF |
| Real Betis | 2020-09-20 16:30:00 2 - 0 | Real Valladolid |
| | | |
| --- | --- | --- |
| Real Valladolid | 2020-10-25 13:00:00 0 - 2 | Alaves |
| SD Huesca | 2020-10-18 16:30:00 2 - 2 | Real Valladolid |
| Real Valladolid | 2020-10-03 11:00:00 1 - 2 | Eibar |
| Real Madrid CF | 2020-09-30 19:30:00 1 - 0 | Real Valladolid |
| Real Valladolid | 2020-09-27 16:30:00 1 - 1 | Celta de Vigo |
| Real Betis | 2020-09-20 16:30:00 2 - 0 | Real Valladolid |
| | | |
| --- | --- | --- |
| Real Betis | 2020-07-16 00:00:00 1 - 2 | Alaves |
| Real Betis | 2020-07-08 00:00:00 3 - 0 | CA Osasuna |
| Real Betis | 2020-07-01 00:00:00 0 - 2 | Villarreal CF |
| Real Betis | 2020-06-25 00:00:00 1 - 0 | Espanyol |
| Real Betis | 2020-06-15 00:00:00 2 - 2 | Granada CF |
| Real Betis | 2020-03-08 00:00:00 2 - 1 | Real Madrid CF |
| | | |
| --- | --- | --- |
| Eibar | 2020-07-16 00:00:00 3 - 1 | Real Valladolid |
| Valencia CF | 2020-07-07 00:00:00 2 - 1 | Real Valladolid |
| Sevilla FC | 2020-06-26 00:00:00 1 - 1 | Real Valladolid |
| Atlético de Madrid | 2020-06-20 00:00:00 1 - 0 | Real Valladolid |
| Leganés | 2020-06-13 00:00:00 1 - 2 | Real Valladolid |
| Real Sociedad | 2020-02-28 00:00:00 1 - 0 | Real Valladolid |
| | |
| --- | --- |
| Tello | 2 |
| William Carvalho | 2 |
| Nabil Fekir | 1 |
| Aïssa Mandi | 1 |
| Sergio Canales | 1 |
| | |
| --- | --- |
| Bruno | 1 |
| Michel Herrero | 1 |
| Sergi Guardiola | 1 |
| Toni Suárez | 1 |
| Waldo Rubio | 1 |
| | | |
| --- | --- | --- |
| Real Betis | 2020-11-01 13:00:00 | Elche CF |
| FC Barcelona | 2020-11-07 15:15:00 | Real Betis |
| Athletic Bilbao | 2020-11-22 00:00:00 | Real Betis |
| Real Betis | 2020-11-29 00:00:00 | Eibar |
| CA Osasuna | 2020-12-06 00:00:00 | Real Betis |
| Real Betis | 2020-12-13 00:00:00 | Villarreal CF |
| Granada CF | 2020-12-20 00:00:00 | Real Betis |
| Real Betis | 2020-12-23 00:00:00 | Cádiz |
| Levante UD | 2020-12-30 00:00:00 | Real Betis |
| Real Betis | 2021-01-03 00:00:00 | Sevilla FC |
| | | |
| --- | --- | --- |
| Real Valladolid | 2020-10-25 13:00:00 | Alaves |
| Villarreal CF | 2020-11-02 20:00:00 | Real Valladolid |
| Real Valladolid | 2020-11-08 00:00:00 | Athletic Bilbao |
| Granada CF | 2020-11-22 00:00:00 | Real Valladolid |
| Real Valladolid | 2020-11-29 00:00:00 | Levante UD |
| Atlético de Madrid | 2020-12-06 00:00:00 | Real Valladolid |
| Real Valladolid | 2020-12-13 00:00:00 | CA Osasuna |
| Sevilla FC | 2020-12-20 00:00:00 | Real Valladolid |
| Real Valladolid | 2020-12-23 00:00:00 | FC Barcelona |
| Cádiz | 2020-12-30 00:00:00 | Real Valladolid |
Eibar
Cádiz
2020-10-30 20:00:00
{{ props.days }}d

{{ props.hours }}h {{ props.minutes }}m

{{ props.seconds }}s
Preview & Prediction »
Real Madrid
SD Huesca
2020-10-31 13:00:00
{{ props.days }}d

{{ props.hours }}h {{ props.minutes }}m

{{ props.seconds }}s
Preview & Prediction »
Athletic Bilbao
Sevilla
2020-10-31 15:00:00
{{ props.days }}d

{{ props.hours }}h {{ props.minutes }}m

{{ props.seconds }}s
Preview & Prediction »
Osasuna
Atlético Madrid
2020-10-31 17:30:00
{{ props.days }}d

{{ props.hours }}h {{ props.minutes }}m

{{ props.seconds }}s
Preview & Prediction »
Alaves
Barcelona
2020-10-31 20:00:00
{{ props.days }}d

{{ props.hours }}h {{ props.minutes }}m

{{ props.seconds }}s
Preview & Prediction »
Real Betis
Elche CF
2020-11-01 13:00:00
{{ props.days }}d

{{ props.hours }}h {{ props.minutes }}m

{{ props.seconds }}s
Preview & Prediction »