Eibar vs Athletic Bilbao Prediction & Betting Tips
Return to this page a few days before the scheduled game when this expired prediction will be updated with our full preview and tips for the next match between these teams.
The La Liga meeting at Estadio Municipal de Ipurúa on Friday sees hosts Eibar go into battle with opponents Athletic Bilbao.
Scroll down for all of our predictions, poll and stats for the Eibar v Athletic Bilbao game - as well as up-to-date odds.
📏 Form Guide

Eibar
Eibar will be looking to improve on their last outing here after the 2-1 La Liga loss in their previous game against Villarreal.
In that match, Eibar had 43% possession and 12 shots at goal with 4 on target. The only player on the scoresheet for Eibar was Kike García (50'). Villarreal CF had 14 shots on goal with 8 of them on target. Gerard Moreno (63') and Paco Alcácer (71') scored for Villarreal.
In their past 6 games, José Mendilíbar's Eibar have celebrated scoring a total of 6 times which gives them an average number of goals scored per match equal to 1.
Their previous form shows that Eibar:
have not lost a league tie with Athletic Bilbao in their last 2 games.
haven't beaten Athletic Bilbao in their last 9 league matches.
are unbeaten in their last 3 league matches at home.

Athletic Bilbao
After being beaten in their last game against Granada in La Liga action, Athletic Bilbao and their travelling fans will hope for a better result here.
In that match, Athletic Bilbao had 61% possession and 9 shots on goal with 2 of them on target. At the other end, Granada CF got 4 attempts on goal with 2 on target. Yangel Herrera (49') and Luis Milla (53') scored for Granada.
The forward players for Athletic Bilbao have been starved of goals over their previous 6 games, netting the disappointing return of only 3. In those fixtures, Los Leones have also seen the overall goal tally of their opponents equal 12. That being said, we must now wait to see if the trend shall be sustained in this next game.
Leading up to this clash, Athletic Bilbao:
haven't beaten Eibar when they have played them away from home in the previous 2 league games.
haven't been defeated by Eibar when they have played them away from home in the previous 4 matches in the league. Travelling fans have really enjoyed these clashes.
are without an away win for the past 2 matches in the league.
👥 Head to head
Looking over their past head to head clashes dating back to 27/08/2017 shows that Eibar have won 0 of these and Athletic Bilbao 2, with the tally of drawn matches being 4.
An aggregate of 10 goals were scored between them in this period, with 4 for Armeros and 6 netted by Los Leones. The average number of goals per game works out to 1.67.
The last league game featuring these clubs was La Liga match day 29 on 17/06/2020 and the score finished Eibar 2-2 Athletic Bilbao.
In that game, Eibar had 47% possession and 12 attempts on goal with 6 on target. The goals were scored by Kike García (19') and Fabián Orellana (78').
Athletic Bilbao got 6 attempts at goal with 3 of them on target. Raúl García (8') and Villalibre (81') scored.
The match was refereed by Eduardo Prieto Iglesias.
📰 Team News: Eibar
Anaitz Arbilla (Muscle Injury) and José Ángel (Ruptured cruciate ligament) won't be available for Eibar gaffer José Mendilíbar.
We think that Armeros may well use the 4-2-3-1 system this time with Marko Dmitrovic, Kevin Rodrigues, Pedro Bigas, Paulo Oliveira, Roberto Correa, Pape Kouli Diop, Recio, Takashi Inui, Eduardo Expósito, Pedro Léon and Kike.
📰 Team News: Athletic Bilbao
Thanks to a fully healthy squad to choose from, Athletic Bilbao manager Gaizka Garitano does not have any fitness worries whatsoever ahead of this match.
We believe Los Leones seem likely to begin the game with a 4-2-3-1 formation, starting the game with Unai Simón, Ander Capa, Yeray Álvarez, Íñigo Martinez, Yuri Berchiche, Dani García, Unai López Cabrera, Iñaki Williams, Iker Muniain, Jon Morcillo and Raul Garcia.
💭 Prediction
We are of the inclination to think that Athletic Bilbao and Eibar should both get enough opportunities to score, although it's hard to separate the two.

Little in this one, and it's almost too close to call. That is why we are leaning toward a 1-1 score draw at the end of this game.
Andre Moura, 23:12 20/09/2020
Both Teams to Score Prediction for Eibar vs Athletic Bilbao
Predicted Lineups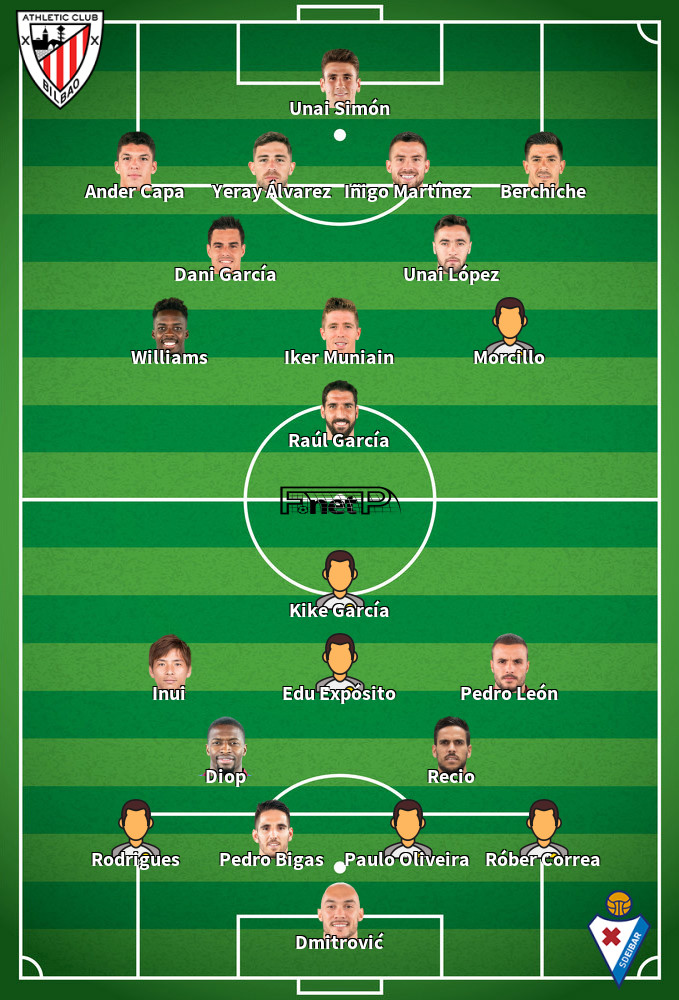 | | | |
| --- | --- | --- |
| Eibar | 2020-06-17 17:30:00 2 - 2 | Athletic Bilbao |
| Athletic Bilbao | 2019-12-14 17:30:00 0 - 0 | Eibar |
| Athletic Bilbao | 2019-02-23 19:45:00 1 - 0 | Eibar |
| Eibar | 2018-10-21 14:15:00 1 - 1 | Athletic Bilbao |
| Athletic Bilbao | 2018-01-26 20:00:00 1 - 1 | Eibar |
| Eibar | 2017-08-27 16:15:00 0 - 1 | Athletic Bilbao |
Pos
Team
Pld
W
D
L
+/-
Pts
Form
1

Granada

Granada

2
2
0
0
3
6

L

W

W

W

W

2

Real Betis

Real Betis

3
2
0
1
2
6

L

L

W

W

L

3

Real Sociedad

Sociedad

3
1
2
0
3
5

D

D

D

D

W

4

Valencia

Valencia

3
1
1
1
1
4

W

L

W

L

D

5

Real Madrid

Real Madrid

2
1
1
0
1
4

W

W

D

D

W

6

Villarreal

Villarreal

2
1
1
0
1
4

L

L

W

D

W

7

Celta Vigo

Celta

2
1
1
0
1
4

L

L

D

D

W

8

Getafe

Getafe

2
1
1
0
1
4

D

L

L

W

D

9

Levante

Levante

2
1
0
1
0
3

L

L

W

W

L

10

Cádiz

Cádiz

2
1
0
1
0
3

L

W

11

Osasuna

Osasuna

3
1
0
2
-1
3

W

W

D

W

L

12

SD Huesca

Huesca

3
0
2
1
-2
2

D

L

D

13

Eibar

Eibar

2
0
1
1
-1
1

W

W

L

D

L

14

Alaves

Alavés

3
0
1
2
-2
1

W

L

L

L

D

15

Real Valladolid

Valladolid

2
0
1
1
-2
1

L

L

W

D

L

16

Atlético Madrid

Atlético

0
0
0
0
0
0

W

D

W

W

D

17

Barcelona

Barcelona

0
0
0
0
0
0

W

W

W

L

W

18

Sevilla

Sevilla

0
0
0
0
0
0

W

W

W

D

W

19

Athletic Bilbao

Bilbao

1
0
0
1
-2
0

L

W

L

L

L

20

Elche CF

Elche

1
0
0
1
-3
0

L
| | | |
| --- | --- | --- |
| Eibar | 2020-10-18 10:00:00 0 - 0 | CA Osasuna |
| Real Valladolid | 2020-10-03 11:00:00 1 - 2 | Eibar |
| Eibar | 2020-09-30 19:30:00 0 - 1 | Elche CF |
| Eibar | 2020-09-27 12:00:00 1 - 2 | Athletic Bilbao |
| Villarreal CF | 2020-09-19 14:00:00 2 - 1 | Eibar |
| Eibar | 2020-09-12 14:00:00 0 - 0 | Celta de Vigo |
| | | |
| --- | --- | --- |
| Athletic Bilbao | 2020-10-18 12:00:00 2 - 0 | Levante UD |
| Alaves | 2020-10-04 12:00:00 1 - 0 | Athletic Bilbao |
| Athletic Bilbao | 2020-10-01 17:00:00 0 - 1 | Cádiz |
| Eibar | 2020-09-27 12:00:00 1 - 2 | Athletic Bilbao |
| Granada CF | 2020-09-12 16:30:00 2 - 0 | Athletic Bilbao |
| Granada CF | 2020-07-19 19:00:00 4 - 0 | Athletic Bilbao |
| | | |
| --- | --- | --- |
| Eibar | 2020-09-12 00:00:00 0 - 0 | Celta de Vigo |
| Eibar | 2020-07-16 00:00:00 3 - 1 | Real Valladolid |
| Eibar | 2020-07-09 00:00:00 0 - 0 | Leganés |
| Eibar | 2020-07-02 00:00:00 0 - 2 | CA Osasuna |
| Eibar | 2020-06-25 00:00:00 1 - 0 | Valencia CF |
| Eibar | 2020-06-17 00:00:00 2 - 2 | Athletic Bilbao |
| | | |
| --- | --- | --- |
| Granada CF | 2020-09-12 00:00:00 2 - 0 | Athletic Bilbao |
| Granada CF | 2020-07-19 00:00:00 4 - 0 | Athletic Bilbao |
| Levante UD | 2020-07-12 00:00:00 1 - 2 | Athletic Bilbao |
| Valencia CF | 2020-07-01 00:00:00 0 - 2 | Athletic Bilbao |
| FC Barcelona | 2020-06-23 00:00:00 1 - 0 | Athletic Bilbao |
| Eibar | 2020-06-17 00:00:00 2 - 2 | Athletic Bilbao |
| | |
| --- | --- |
| Kike García | 2 |
| Esteban Burgos | 1 |
| Kévin Rodrigues | 1 |
| | |
| --- | --- |
| Unai López | 2 |
| Álex Berenguer | 1 |
| Williams | 1 |
| | | |
| --- | --- | --- |
| Sevilla FC | 2020-10-24 16:30:00 | Eibar |
| Eibar | 2020-10-30 20:00:00 | Cádiz |
| SD Huesca | 2020-11-08 00:00:00 | Eibar |
| Eibar | 2020-11-22 00:00:00 | Getafe CF |
| Real Betis | 2020-11-29 00:00:00 | Eibar |
| Eibar | 2020-12-06 00:00:00 | Valencia CF |
| Real Sociedad | 2020-12-13 00:00:00 | Eibar |
| Eibar | 2020-12-20 00:00:00 | Real Madrid CF |
| Alaves | 2020-12-23 00:00:00 | Eibar |
| FC Barcelona | 2020-12-30 00:00:00 | Eibar |
| | | |
| --- | --- | --- |
| CA Osasuna | 2020-10-24 11:00:00 | Athletic Bilbao |
| Athletic Bilbao | 2020-10-31 15:00:00 | Sevilla FC |
| Real Valladolid | 2020-11-08 00:00:00 | Athletic Bilbao |
| Athletic Bilbao | 2020-11-22 00:00:00 | Real Betis |
| Getafe CF | 2020-11-29 00:00:00 | Athletic Bilbao |
| Athletic Bilbao | 2020-12-06 00:00:00 | Celta de Vigo |
| Valencia CF | 2020-12-13 00:00:00 | Athletic Bilbao |
| Athletic Bilbao | 2020-12-20 00:00:00 | SD Huesca |
| Villarreal CF | 2020-12-23 00:00:00 | Athletic Bilbao |
| Athletic Bilbao | 2020-12-30 00:00:00 | Real Sociedad |
Elche CF
Valencia
2020-10-23 19:00:00
{{ props.days }}d

{{ props.hours }}h {{ props.minutes }}m

{{ props.seconds }}s
Preview & Prediction »
Osasuna
Athletic Bilbao
2020-10-24 11:00:00
{{ props.days }}d

{{ props.hours }}h {{ props.minutes }}m

{{ props.seconds }}s
Preview & Prediction »
Barcelona
Real Madrid
2020-10-24 14:00:00
{{ props.days }}d

{{ props.hours }}h {{ props.minutes }}m

{{ props.seconds }}s
Preview & Prediction »
Sevilla
Eibar
2020-10-24 16:30:00
{{ props.days }}d

{{ props.hours }}h {{ props.minutes }}m

{{ props.seconds }}s
Preview & Prediction »
Atlético Madrid
Real Betis
2020-10-24 19:00:00
{{ props.days }}d

{{ props.hours }}h {{ props.minutes }}m

{{ props.seconds }}s
Preview & Prediction »
Real Valladolid
Alaves
2020-10-25 11:00:00
{{ props.days }}d

{{ props.hours }}h {{ props.minutes }}m

{{ props.seconds }}s
Preview & Prediction »