By Peter Guest, FootballPredictions.NET, 15:30 13/11/2020
Updated at: 15:30 13/11/2020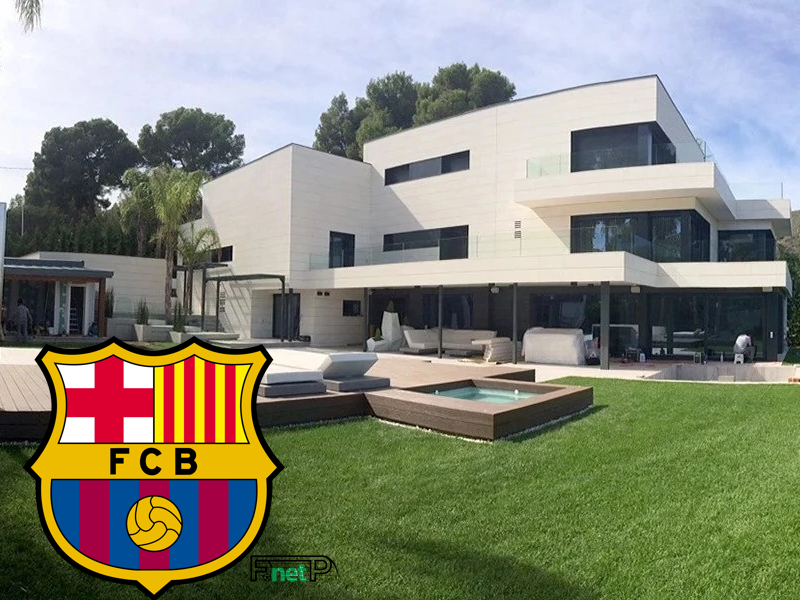 Spanish giants FC Barcelona are one of world football's biggest clubs, winning 26 La Liga titles and five European Cup / Champions League titles.
The Barcelona players are known to live in the reputable areas of Castelldefels and Pedralbes within the province of Barcelona. The club's first-team stars generally own multi-million Euro mansions in the upmarket areas of the city.
However, some such as Antoine Griezmann, commute to training from outside the city.
The facilities included in the homes of some of the Blaugrana's best players are more similar to those of a hotel than a house.
Castelldefels, the coastal municipal area that has been home to some of the world's best
Castelldefels is a small municipality that is situated on the south coast of the province of Barcelona. Due to its seaside location, it has a stunning sandy beach and also experiences high temperatures during the summer months.
During the last couple of decades, it has become a popular location for Barcelona players when choosing where to live after joining the Catalan giants. Brazilian superstars Ronaldinho and Neymar Jr both lived in the area during their time at the club.
https://twitter.com/TuCastelldefels/status/1327178527351971840
Castelldefels was also the venue for the Olympic canal during the 1992 Barcelona Summer Olympics and it was known as the Canal Olimpic de Catalunya.
Six-time Ballon d'Or winner Lionel Messi is the most high-profile footballer to live in Castelldefels. The legendary Argentinian forward has been with Barcelona since his adolescent days after joining from hometown club Newell's Old Boys back in 2002.
He has since gone on to make over 700 appearances for the club.
Messi lives in a grand mansion in Castelldefels with his wife Antonella Roccuzzo and their three children. The home's features include a large swimming pool, an indoor gym and a football pitch.
Current Barca teammate Philippe Coutinho also lives in the area, having recently returned to the city following a spell on loan in Germany with European champions Bayern Munich.
Former Barcelona striker Luis Suarez was another star name that lived in the area of Castelldefels. The Uruguayan joined the club from Liverpool in 2014 but departed for La Liga rivals Atletico Madrid earlier this year after six years in Barcelona.
Whilst with Barca, Suarez lived in a 2.9million Euro property with his wife Sofia Balbi and their three children. The property spread across a total of 2,000 square metres and had two large outdoor swimming pools.
Pedralbes, home to Gerard Pique, Shakira and the Camp Nou
Pedralbes is situated further north compared to Castelldefels and away from the seafront. Barcelona's 100,000 capacity stadium, the Camp Nou, has been situated in Pedralbes since its construction back in 1957.
The most high-profile Barcelona player to live in Pedralbes is central defender Gerard Pique.
The former Spain international has a home in the area worth around five million Euros and he lives there with his pop star wife Shakira and their children.
The property covers a total of 1500 square metres and is three storeys high. It includes seven bedrooms, two kitchens, a gym and a swimming pool with a waterfall feature.
FOR SALE - Panama, Pedralbes, Barcelona, Spain, 08034 https://t.co/VND9DxWmba pic.twitter.com/pNaQ9JZH7X

— Luxury Real Estate (@propgoluxury) April 23, 2020
Antoine Griezmann, still commuting from Madrid
French World Cup-winning forward Antoine Griezmann joined Barcelona from La Liga rivals Atletico Madrid in the summer of 2019 for a total fee of £108million.
Despite being seen house-hunting in Barcelona, Griezmann ultimately celebrated the transfer by purchasing himself a mansion in Madrid.
The property is around a three-hour commute away from the Barcelona training ground. Griezmann lives here with his wife Erika Choperena and their two daughters. The mansion has a range of features, including an outdoor basketball court.