By Andre Moura, FootballPredictions.NET, 21:32 21/08/2020
Updated at: 22:00 02/10/2020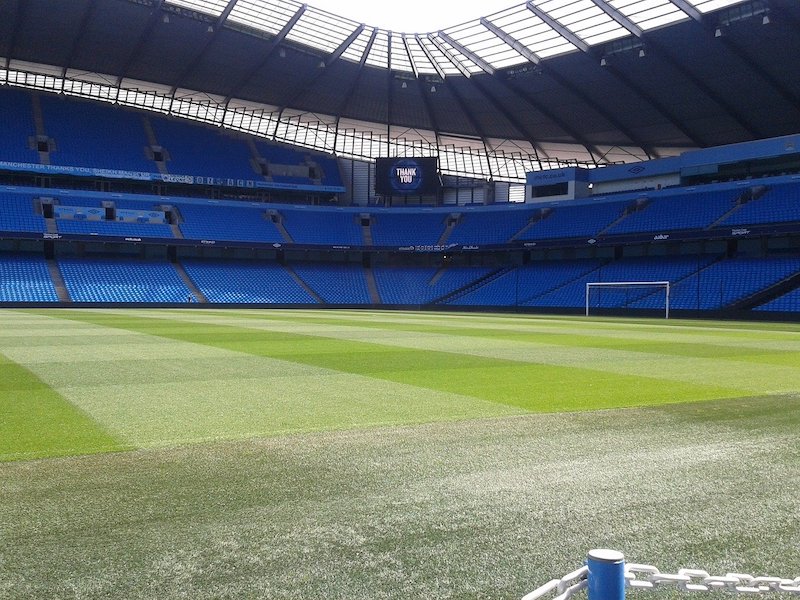 A quip often levelled at Manchester City is that they 'have no fans'.
And whilst they might not be as popular as some of the sides in the Premier League, they are still one of the best-supported sides in the division.
The Etihad Stadium has the fifth-largest capacity of any Premier League football ground, housing a maximum of 55,097 fans on any given match day.
During the title-winning 2018/19 season, Manchester City reported their average attendance as being 54,130 - suggesting that they were operating at over 98% of stadium capacity.
In reality, Manchester City do not always fill their stadium. The frequent sight of patches of empty seats in the Etihad Stadium during games is backed up by the real attendance figures.
Actual attendance numbers reported by the club compared with those obtained by official police reports have shown often vast discrepancies.
Here's Sergio Aguero scoring a Champions League hat-trick in front of a clearly less than capacity Etihad Stadium:
👑 HAT-TRICK KING 👑#OnThisDay in 2016, goals from @aguerosergiokun and Iheanacho sealed our win over Borussia Monchengladbach ⚽️⚽️⚽️⚽️

🔷 #ManCity | https://t.co/axa0klD5re pic.twitter.com/kLUnJWdEiB

— Manchester City (@ManCity) September 14, 2020
Things Aren't Always as They Seem
Various Freedom of Information Act requests have been submitted to Greater Manchester Police, who keep track of the real number of attendees to events for safety reasons.
Based on a sample of 12 games, the actual attendances at the Etihad were over 14% less than reported by City themselves.
Why does this happen? It all comes down to how the club chooses to report their attendance figures.
In some cases, they state game attendances based on what's been issued - such as the number of season tickets sold and complimentary tickets given out by the club.
Even if these tickets remain unused on matchdays, clubs can include these as part of the official attendance.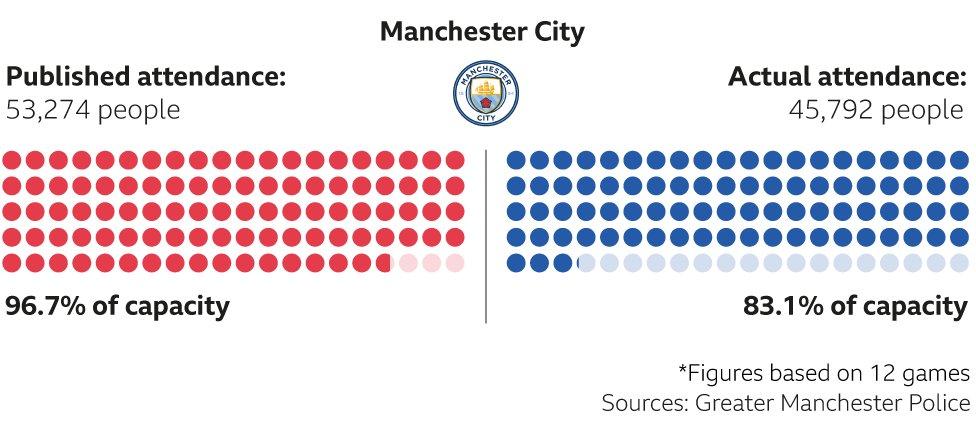 Image Source: BBC
Financial Impact of Football
As the most-watched football league in the world, the scrutiny on every football team to have lots of fans has never been more intense.
Every single game is met with informed (and uninformed) opinion flooding social media, with plenty of keyboard warriors quick to give their assessment on the game.
Manchester City's meteoric rise has come at a cost for all associated with the club. With fortunes improving on the pitch, the amount of competitions and big-name fixtures City find themselves in has doubled over the past decade.
Barring a couple of brief forays into the Europa League in the mid-2000s, City's fan base was solely used to watching their club play in league fixtures and the occasional FA Cup or League Cup run.
Since 2011/12, Manchester City has been the English only club to take part in every Champions League campaign. Although the wait to win the competition continues, the increase in fixtures means that fans have to pay more money than ever to watch the Citizens play every season.
In addition, the price of going to watch City in a league game has nearly quadrupled since 2011, making a trip to the Etihad less accessible than ever for City's historically working class fan base.
Home Improvements
Whilst much has been made of City's relatively small fan base, the kingmakers at the Etihad felt there was room for improvement with the stadium. Having acquired the City of Manchester Stadium in 2002 following the Commonwealth Games, City were operating at the then capacity of 48,000 for over a decade.
The new era of success at the club brought about an increase in popularity and in 2015 an over 6,000 seat extension was added to the South Stand at the Etihad - taking the capacity past 55,000.
Plans are also in place to extend the North Stand, too, adding another 6/7,000 seats as City look to take their capacity to 62,000. The need for this has been brought on by the increase in interest in watching Manchester City by fans from all over the world.
Blue Through Thick and Thin
One of the key criticisms often directed at Manchester City being the fact that they are only challenging for titles because of the finances they have access to.
City fans eager to distance themselves from plastic Man City fans are often quick to point out that they have been loyal to the cause throughout.
The Sky Blues held an English attendance record for a club match for over 80 years, with almost 85,000 fans watching City play Stoke back in 1934. Their fan base is one of the most reputable in the country.
During the 1998/99 season when City dropped down into League One (old Division Two), attendances at Maine Road were frequently above 30,000 and sky blues fans have been unwavering in their support, regardless of how the team is performing.
Top of the League
Perhaps one of the most telling statistics for Manchester City fans is the games in which their fans choose to watch.
On the face of things, their attendances in league fixtures are fairly impressive and stand up well against the rest of the top teams in England.
Champions League, FA Cup and League Cup games, however, are not so well attended at the Etihad Stadium.
Suggesting that the cost of success means less fans at the stadium and that with matches available to watch at home more conveniently than ever, City's supporters seem to be picking and choosing their moments to watch their beloved team play.
Until that changes, the tag of 'the Emptyhad' could well stick for some time to come.