Levante vs Alaves Live Stream, Predictions
Return to this page a few days before the scheduled game when this expired prediction will be updated with our full preview and tips for the next match between these teams.
Full-Time Result Prediction
Alaves visit Estadio Ciutat de Valencia on Sunday for the La Liga game with home side Levante.
View all Levante v Alaves tips, stats and our pre-match poll below (inc. the best betting odds).
Both Teams to Score Prediction
📊 Form Guide

Levante
Levante are hoping to win again after their last result, the 3-1 La Liga victory versus Alaves.
In that game, Levante managed 64% possession and 15 attempts at goal with 5 on target. For Levante, goals were scored by Óscar Duarte (53'), Roger Martí (74') and José Luis Morales (90'). For their opponents, Alaves had 6 shots on goal with 2 of them on target. Joselu (36') scored for Alaves.
Levante have been conceding pretty frequently recently, although they have also managed to hit the back of the net themselves. Over their last 6 matches, Levante have conceded in 6 of them in addition to getting on the scoresheet in 5 of those matches. That sort of pattern won't necessarily follow through into this next game, though.
Coming into this meeting, Levante haven't won against Alaves in their previous 6 league matches.

Alaves
The stats don't lie, and Alaves have been scored against in 5 of their last 6 matches, letting opponents get 9 goals overall. Defensively, Alaves just haven't been too solid at all.
Their past results show that Alaves:
are undefeated by Levante when they've played them away from home in the last 2 league games.
haven't won away from home in the past 14 league games. What a horror away run it has been.
👥 Head to head
An examination of their past head to head results going back to 11/02/2019 tells us that these fixtures have not been good ones for Levante. They have not been able to get themselves any wins at all whereas Alaves have been too good for them, winning in 67 per cent of those matches.
A combined total of 13 goals were yielded between them in these games, with 4 from Levante and 9 for Babazorros. The average number of goals per game works out to 2.17.
The last league game between these sides was La Liga match day 13 on 06/11/2021 which finished with the scoreline of Alaves 2-1 Levante.
In that match, Alaves managed 61% possession and 10 shots at goal with 3 of them on target. Their only player to score was Joselu (77', 91').
For their opponents, Levante got 12 attempts on goal with 7 of them on target. De Frutos (13') scored.
The match was refereed by Adrián Cordero Vega.
ℹ️ Team News: Levante
The Levante boss Alessio Lisci does not have any fitness concerns at all ahead of this match thanks to a fully injury-free squad available to select from.
📋 Team News: Alaves
With a completely injury-free group ready to go, the Alaves boss Julio Velázquez does not have any fitness concerns to speak of before this game.
🔮 Prediction
We feel that Alaves will likely create enough chances to get a goal against this Levante team, but that probably won't be as many as they'll concede.

We can see both teams to score in a 2-1 victory for Levante by the time that the referee blows the final whistle. It really should be an interesting one.
Our expert partners are tipping over 1.5 goals for this match. Check out their VIP predictions here.
Andre Moura, 00:39 11/05/2022
Predicted Lineups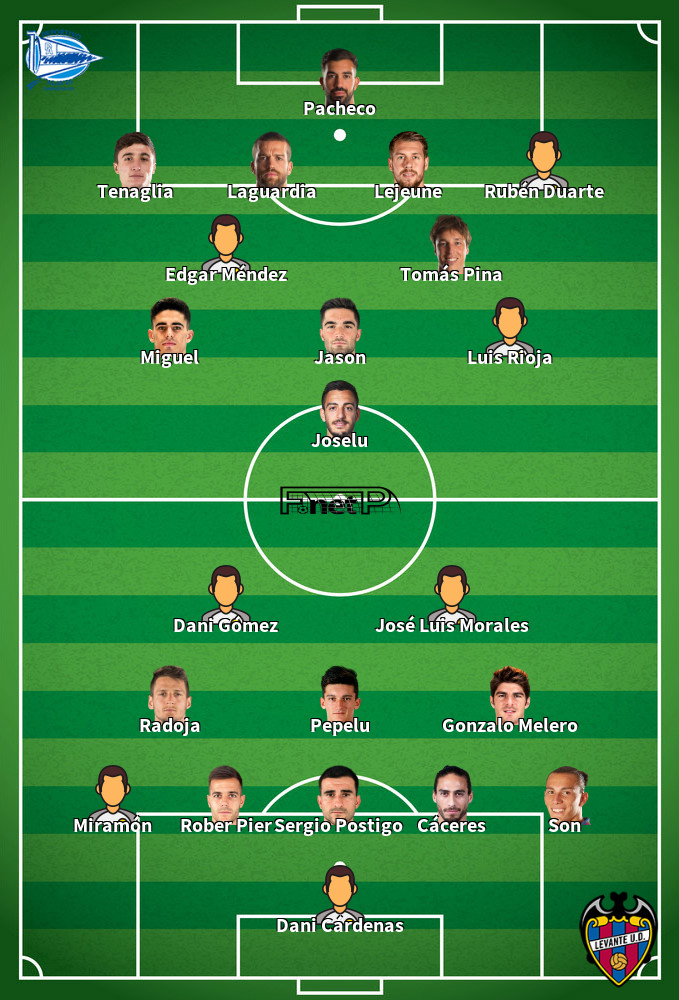 | | | |
| --- | --- | --- |
| Alaves | 2021-11-06 17:30:00 2 - 1 | Levante UD |
| Alaves | 2021-05-08 12:00:00 2 - 2 | Levante UD |
| Levante UD | 2020-11-08 17:30:00 1 - 1 | Alaves |
| Levante UD | 2020-01-18 12:00:00 0 - 1 | Alaves |
| Alaves | 2019-08-18 15:00:00 1 - 0 | Levante UD |
| Alaves | 2019-02-11 20:00:00 2 - 0 | Levante UD |
Pos
Team
Pld
W
D
L
+/-
Pts
Form
1

Real Madrid

Real Madrid

36
26
6
4
49
84

W

W

W

L

W

2

Barcelona

Barcelona

36
21
9
6
32
72

W

L

W

W

W

3

Atlético Madrid

Atlético

36
20
7
9
21
67

W

D

L

W

W

4

Sevilla

Sevilla

36
17
15
4
22
66

L

W

D

D

D

5

Real Betis

Real Betis

36
18
7
11
20
61

D

L

D

L

W

6

Real Sociedad

Sociedad

36
16
11
9
3
59

D

L

D

L

W

7

Villarreal

Villarreal

36
15
11
10
25
56

W

W

L

D

W

8

Athletic Bilbao

Bilbao

36
13
13
10
6
52

L

W

W

D

L

9

Osasuna

Osasuna

36
12
11
13
-10
47

W

L

D

D

D

10

Valencia

Valencia

37
10
15
12
-7
45

L

D

D

L

D

11

Celta Vigo

Celta

36
11
10
15
1
43

W

L

D

W

L

12

Rayo Vallecano

Rayo

36
11
9
16
-8
42

W

W

D

D

L

13

Espanyol

Espanyol

37
10
11
16
-13
41

L

L

D

L

D

14

Elche CF

Elche

36
10
9
17
-13
39

W

W

D

L

L

15

Getafe

Getafe

36
8
14
14
-6
38

L

W

D

D

D

16

Granada

Granada

36
8
13
15
-15
37

L

D

D

W

W

17

Cádiz

Cádiz

36
7
14
15
-17
35

W

L

D

W

L

18

Mallorca

Mallorca

36
8
9
19
-30
33

L

W

L

L

D

19

Alaves

Alavés

36
8
7
21
-31
31

W

L

W

L

W

20

Levante

Levante

36
6
11
19
-29
29

W

L

D

W

L
| | | |
| --- | --- | --- |
| Levante UD | 2022-05-15 17:30:00 3 - 1 | Alaves |
| Real Madrid CF | 2022-05-12 19:30:00 6 - 0 | Levante UD |
| Levante UD | 2022-05-06 19:00:00 2 - 1 | Real Sociedad |
| Valencia CF | 2022-04-30 16:30:00 1 - 1 | Levante UD |
| Levante UD | 2022-04-21 17:00:00 2 - 3 | Sevilla FC |
| Granada CF | 2022-04-17 12:00:00 1 - 4 | Levante UD |
| | | |
| --- | --- | --- |
| Levante UD | 2022-05-15 17:30:00 3 - 1 | Alaves |
| Alaves | 2022-05-11 17:00:00 2 - 1 | Espanyol |
| Celta de Vigo | 2022-05-07 16:30:00 4 - 0 | Alaves |
| Alaves | 2022-04-30 12:00:00 2 - 1 | Villarreal CF |
| RCD Mallorca | 2022-04-19 17:00:00 2 - 1 | Alaves |
| Alaves | 2022-04-16 14:15:00 1 - 0 | Rayo Vallecano |
| | | |
| --- | --- | --- |
| Levante UD | 2022-05-06 00:00:00 2 - 1 | Real Sociedad |
| Levante UD | 2022-04-21 00:00:00 2 - 3 | Sevilla FC |
| Levante UD | 2022-04-10 00:00:00 2 - 3 | FC Barcelona |
| Levante UD | 2022-04-02 00:00:00 2 - 0 | Villarreal CF |
| Levante UD | 2022-03-12 00:00:00 1 - 1 | Espanyol |
| Levante UD | 2022-02-25 00:00:00 3 - 0 | Elche CF |
| | | |
| --- | --- | --- |
| Celta de Vigo | 2022-05-07 00:00:00 4 - 0 | Alaves |
| RCD Mallorca | 2022-04-19 00:00:00 2 - 1 | Alaves |
| CA Osasuna | 2022-04-10 00:00:00 1 - 0 | Alaves |
| Atlético de Madrid | 2022-04-02 00:00:00 4 - 1 | Alaves |
| Real Sociedad | 2022-03-13 00:00:00 1 - 0 | Alaves |
| Getafe CF | 2022-02-26 00:00:00 2 - 2 | Alaves |
| | |
| --- | --- |
| Goals scored | 1.4 |
| Goals conceded | 1.6 |
| Time first goal scored | 46 |
| Time first goal conceded | 39 |
| Yellow cards | 2.7 |
| Red cards | 0.3 |
| Subs used | 4.8 |
| Biggest victory | 3-0 |
| Biggest defeat | 3-0 |
| | |
| --- | --- |
| Goals scored | 0.7 |
| Goals conceded | 2.3 |
| Time first goal scored | 43 |
| Time first goal conceded | 36 |
| Yellow cards | 2.1 |
| Red cards | 0.1 |
| Subs used | 4.7 |
| Biggest victory | 2-0 |
| Biggest defeat | 4-0 |
| | |
| --- | --- |
| José Luis Morales | 13 |
| Roger Martí | 6 |
| Gonzalo Melero | 5 |
| Dani Gómez | 4 |
| De Frutos | 4 |
| | |
| --- | --- |
| Joselu | 14 |
| Gonzalo Escalante | 5 |
| Laguardia | 3 |
| Mamadou Loum | 2 |
| Edgar Méndez | 1 |
| | | |
| --- | --- | --- |
| Rayo Vallecano | 2022-05-20 19:00:00 | Levante UD |
| | | |
| --- | --- | --- |
| Alaves | 2022-05-22 18:00:00 | Cádiz |