Atalanta vs Lazio Prediction & Betting Tips
Return to this page a few days before the scheduled game when this expired prediction will be updated with our full preview and tips for the next match between these teams.
Full-Time Result Prediction for Atalanta vs Lazio
Atalanta meet guests Lazio at Gewiss Stadium in the Serie A meeting on Sunday.
A look at their previous results shows us that Lazio:
have not emerged victorious against Atalanta when they've played them away from home in the last 2 matches in the league.
are unbeaten in their last 9 league matches away from home. They really have been good on their travels.
Both Teams to Score Prediction for Atalanta vs Lazio
Over/Under 2.5 Goals Prediction for Atalanta vs Lazio

🏟️ Team Focus:
Atalanta
Formed: 1907
Nickname: La Dea
Stadium: Gewiss Stadium (21,300)
Captain: Alejandro Gómez
Chairman: Antonio Percassi
Manager: Gian Gasperini
Competitions: Serie A position 4, Champions League (Last 16)

Coming into this contest, Atalanta haven't lost in the league to Lazio in their last 5 games.
Key Man: Josip Iličić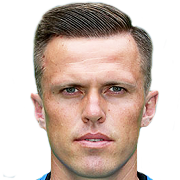 Generally playing in the Striker position, Josip Iličić was born in Prijedor, Bosnia and Herzegovina. After having played his first senior match for Palermo in the 2010 - 2011 season, the dangerous Forward has bagged 15 league goals in this Serie A 2019 - 2020 campaign so far coming from a total of 21 appearances.
| | | |
| --- | --- | --- |
| Lazio | 2019-10-19 13:00:00 3 - 3 | Atalanta |
| Atalanta | 2019-05-15 18:45:00 0 - 2 | Lazio |
| Lazio | 2019-05-05 13:00:00 1 - 3 | Atalanta |
| Atalanta | 2018-12-17 19:30:00 1 - 0 | Lazio |
| Lazio | 2018-05-06 13:00:00 1 - 1 | Atalanta |
| Atalanta | 2017-12-17 19:45:00 3 - 3 | Lazio |
Pos
Team
Pld
W
D
L
+/-
Pts
Form
1

Juventus

Juventus

26
20
3
3
26
63

W

L

W

W

W

2

Lazio

Lazio

26
19
5
2
37
62
D

W

W

W

W

3

Inter Milan

Inter

25
16
6
3
25
54
D

W

W

L

L

4

Atalanta

Atalanta

25
14
6
5
36
48

W

D

W

W

W

5

Roma

Roma

26
13
6
7
16
45

L

L

L

W

W

6

SSC Napoli

Napoli

26
11
6
9
5
39

W

L

W

W

W

7

AC Milan

Milan

26
10
6
10
-6
36
D

L

W

D

L

8

Hellas Verona

Verona

25
9
8
8
3
35
DD

W

D

L

9

Parma

Parma

25
10
5
10
1
35

W

D

L

W

L

10

Bologna

Bologna

26
9
7
10
-4
34

W

W

L

D

L

11

Sassuolo

Sassuolo

25
9
5
11
2
32
D

W

W

L

W

12

Cagliari

Cagliari

25
8
8
9
1
32
DD

L

L

L

13

Fiorentina

Fiorentina

26
7
9
10
-4
30

L

L

W

DD
14

Udinese

Udinese

26
7
7
12
-16
28

L

DDDD
15

Torino

Torino

25
8
3
14
-17
27

L

L

L

L

L

16

Sampdoria

Sampdoria

25
7
5
13
-16
26
D

L

W

L

W

17

Genoa

Genoa

26
6
7
13
-16
25
D

W

W

L

W

18

Lecce

Lecce

26
6
7
13
-22
25

W

W

W

L

L

19

SPAL

SPAL

26
5
3
18
-24
18

L

L

L

L

W

20

Brescia

Brescia

26
4
4
18
-27
16

L

D

L

L

L
| | | |
| --- | --- | --- |
| Valencia CF | 2020-03-10 20:00:00 3 - 4 | Atalanta |
| Lecce | 2020-03-01 14:00:00 2 - 7 | Atalanta |
| Atalanta | 2020-02-19 20:00:00 4 - 1 | Valencia CF |
| Atalanta | 2020-02-15 19:45:00 2 - 1 | Roma |
| Fiorentina | 2020-02-08 14:00:00 1 - 2 | Atalanta |
| Atalanta | 2020-02-02 14:00:00 2 - 2 | Genoa |
| | | |
| --- | --- | --- |
| Lazio | 2020-02-29 14:00:00 2 - 0 | Bologna |
| Genoa | 2020-02-23 11:30:00 2 - 3 | Lazio |
| Lazio | 2020-02-16 19:45:00 2 - 1 | Inter Milan |
| Parma | 2020-02-09 17:00:00 0 - 1 | Lazio |
| Lazio | 2020-02-05 19:45:00 0 - 0 | Hellas Verona |
| Lazio | 2020-02-02 14:00:00 5 - 1 | SPAL |
| | | |
| --- | --- | --- |
| Atalanta | 2020-02-15 00:00:00 2 - 1 | Roma |
| Atalanta | 2020-02-02 00:00:00 2 - 2 | Genoa |
| Atalanta | 2020-01-20 00:00:00 1 - 2 | SPAL |
| Atalanta | 2020-01-06 00:00:00 5 - 0 | Parma |
| Atalanta | 2019-12-22 00:00:00 5 - 0 | AC Milan |
| Atalanta | 2019-12-07 00:00:00 3 - 2 | Hellas Verona |
| | | |
| --- | --- | --- |
| Genoa | 2020-02-23 00:00:00 2 - 3 | Lazio |
| Parma | 2020-02-09 00:00:00 0 - 1 | Lazio |
| Roma | 2020-01-26 00:00:00 1 - 1 | Lazio |
| Brescia | 2020-01-05 00:00:00 1 - 2 | Lazio |
| Cagliari | 2019-12-16 00:00:00 1 - 2 | Lazio |
| Sassuolo | 2019-11-24 00:00:00 1 - 2 | Lazio |
| | |
| --- | --- |
| Goals scored | 2.8 |
| Goals conceded | 1.6 |
| Time first goal scored | 34 |
| Time first goal conceded | 42 |
| Yellow cards | 2.1 |
| Red cards | 0.1 |
| Subs used | 3 |
| Biggest victory | 7-1 |
| Biggest defeat | 3-1 |
| | |
| --- | --- |
| Goals scored | 1.8 |
| Goals conceded | 1.1 |
| Time first goal scored | 34 |
| Time first goal conceded | 32 |
| Yellow cards | 3.2 |
| Red cards | 0.1 |
| Subs used | 3 |
| Biggest victory | 3-0 |
| Biggest defeat | 2-1 |
| | | |
| --- | --- | --- |
| Atalanta | 2020-03-22 14:00:00 | SSC Napoli |
| Udinese | 2020-03-22 14:00:00 | Atalanta |
| Cagliari | 2020-04-04 00:00:00 | Atalanta |
| Atalanta | 2020-04-10 00:00:00 | Sampdoria |
| Juventus | 2020-04-18 00:00:00 | Atalanta |
| Atalanta | 2020-04-21 00:00:00 | Brescia |
| Hellas Verona | 2020-04-25 00:00:00 | Atalanta |
| Atalanta | 2020-05-02 00:00:00 | Bologna |
| AC Milan | 2020-05-09 00:00:00 | Atalanta |
| Parma | 2020-05-16 00:00:00 | Atalanta |
| | | |
| --- | --- | --- |
| Lazio | 2020-03-20 19:45:00 | Fiorentina |
| Torino | 2020-03-21 14:00:00 | Lazio |
| Lazio | 2020-04-04 00:00:00 | AC Milan |
| Lecce | 2020-04-10 00:00:00 | Lazio |
| Lazio | 2020-04-18 00:00:00 | Sassuolo |
| Udinese | 2020-04-21 00:00:00 | Lazio |
| Juventus | 2020-04-25 00:00:00 | Lazio |
| Lazio | 2020-05-02 00:00:00 | Cagliari |
| Hellas Verona | 2020-05-09 00:00:00 | Lazio |
| Lazio | 2020-05-16 00:00:00 | Brescia |
Flora
Tallinna Kalev
2020-05-30 10:00:00
{{ props.days }}d

{{ props.hours }}h {{ props.minutes }}m

{{ props.seconds }}s
Preview & Prediction »
Esbjerg
Aalborg BK
2020-05-31 16:00:00
{{ props.days }}d

{{ props.hours }}h {{ props.minutes }}m

{{ props.seconds }}s
Preview & Prediction »
Vojvodina
Čukarički
2020-05-29 15:00:00
{{ props.days }}d

{{ props.hours }}h {{ props.minutes }}m

{{ props.seconds }}s
Preview & Prediction »
Waldhof Mannheim
KFC Uerdingen
2020-05-30 12:00:00
{{ props.days }}d

{{ props.hours }}h {{ props.minutes }}m

{{ props.seconds }}s
Preview & Prediction »
Bnei Yehuda
Hapoel Kfar Saba
2020-06-01 17:15:00
{{ props.days }}d

{{ props.hours }}h {{ props.minutes }}m

{{ props.seconds }}s
Preview & Prediction »
Rad
Red Star Belgrade
2020-05-29 17:30:00
{{ props.days }}d

{{ props.hours }}h {{ props.minutes }}m

{{ props.seconds }}s
Preview & Prediction »