By Andre Moura, FootballPredictions.NET, 13:30 13/11/2020
Updated at: 13:26 18/11/2020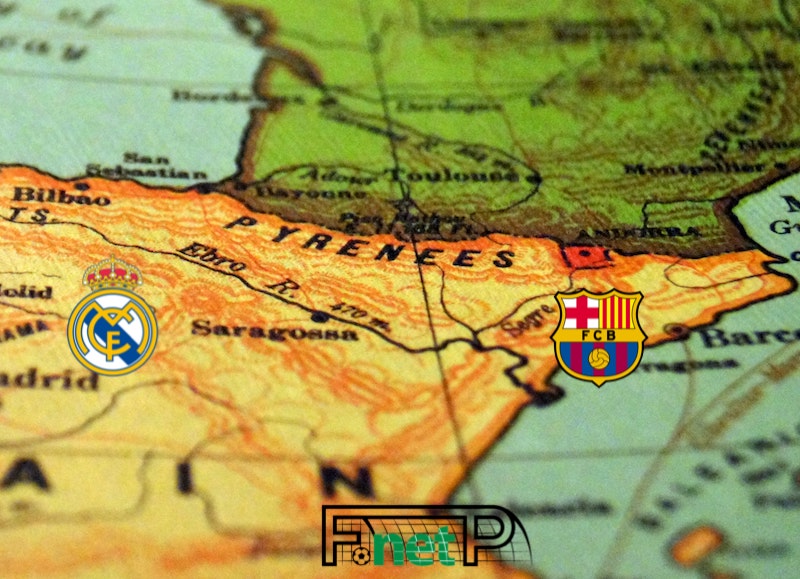 Real Madrid against Barcelona is one of the most historic and fierce derbies in world football. More often than not, those who come out victorious in each El Clasico battle lift the La Liga trophy at the end of the season.
The two clubs, although not close geographically, have competed at the top of Spanish and European football for decades with each meeting on a knife-edge.
History dictates that Real Madrid is better than Barcelona in terms of trophies - both domestically and in Europe. But football isn't played in the boardroom or in trophy cabinets. With both teams periodically in transition, they are closely matched - with an exciting battle for La Liga success always anticipated.
Los Blancos edged out their greatest rivals towards the end of the 2019/20 La Liga season to lift the title. This was the perfect end to head coach Zinedine Zidane's first full season back at the helm at the Santiago Bernabeu.
It is a building block he'll hope to expand on this term.
The History Of El Clasico
The rivalry originates from each city seemingly representing the political divides across Spain, with Madrid allegedly representing Spanish nationalism while Barcelona represents Catalonian nationalism.
As both clubs are two of the richest and most successful sports franchises in the world, this derby is viewed as one of the biggest in football. The conflict between the two clubs surpasses the dimensions of sport, with appointments to each club's separate boards often becoming heavily politicised.
👏 Not one, not two but three successive league wins at the Bernabéu in #ElClasico 👉 https://t.co/ntTBoMAfXP 👈 🔴🔵 #ForçaBarça pic.twitter.com/hHb0veRn5d

— FC Barcelona (@FCBarcelona) December 23, 2017
Both Real and Barcelona grew further apart during the 1980s when ultra groups were formed. Ultras Sur was founded as a far-right-leaning Real Madrid ultras group. It was followed in 1981 by the foundation of the initially left-leaning (and later far-right) Barcelona ultras group Boixos Nois.
Both groups became known for their violent acts. One of the most conflictive factions of Barcelona supporters, the Casuals, allegedly became a fully-fledged criminal organisation.
Real Madrid's Dominance in Europe
At the time of writing, Real Madrid has won more European Cups/ UEFA Champions League trophies than Barcelona. Their latest success came in 2018 where a Gareth Bale inspired performance saw past Liverpool, 3-1.
🏆 UEFA CHAMPIONS LEAGUE 2018#CHAMP13NS | #HalaMadrid pic.twitter.com/JT5TyD1oOY

— Real Madrid C.F. 🇬🇧🇺🇸 (@realmadriden) May 26, 2018
In total, Los Blancos have won 13 Champions League titles, whereas Barcelona has only won 5, their latest triumph coming in 2014 where they beat Juventus in a final played in Germany.
It's also worth mentioning that Los Blancos were recognised as Club of the Century.
In 2013/14, Carlo Ancelotti delivered 'La Decima'; Real Madrid's 10th title in the competition. Following that dramatic 4-1 victory over Atletico Madrid, Los Blancos once again dominated Europe's most prestigious competition.
Despite the mid-season sacking of Rafa Benitez, his successor Zidane continued the club's progress and won a hat-trick of Champions Leagues, bringing the clubs total to 13.
Much like their history in Europe, Real have won more La Liga championships than Barcelona. Los Blancos have won a record 34 league championships, whereas Barça has won 26.
Two Teams In Transition
Across the past two seasons, both clubs have witnessed turbulent times on and off the field. After Zidane had initially left the club following their Champions League victory in 2018, Los Blancos crashed out of the competition the following season in the round-of-16 against Ajax, before 'Zizou' retook the reigns.
Although they tasted title success last summer, Los Blancos couldn't reclaim European gold as they lost over two-legs in the Champions League to Manchester City.
This summer also brought major uncertainty for their fierce rivals. After an embarrassing 8-2 defeat to Bayern Munich in the Champions League quarter-final, talisman Lionel Messi looked set to quit the club.
Changes in the boardroom and in the dugout tempted the Argentinian magician to stay for at least another season. Barca legend Ronald Koeman fulfilled his managerial ambition to become their head coach after he replaced the disgraced Quique Setien.
For the first time in each club's history, they look to be in the same position in terms of transition. Ansu Fati for Barcelona and Vinicius Junior for Los Blancos head up a plethora of young talent for both as they look to stake their claim as the best club in Spain and Europe once again.