By Lucas Pereira, FootballPredictions.NET, 18:50 31/05/2020
Updated at: 15:44 07/12/2020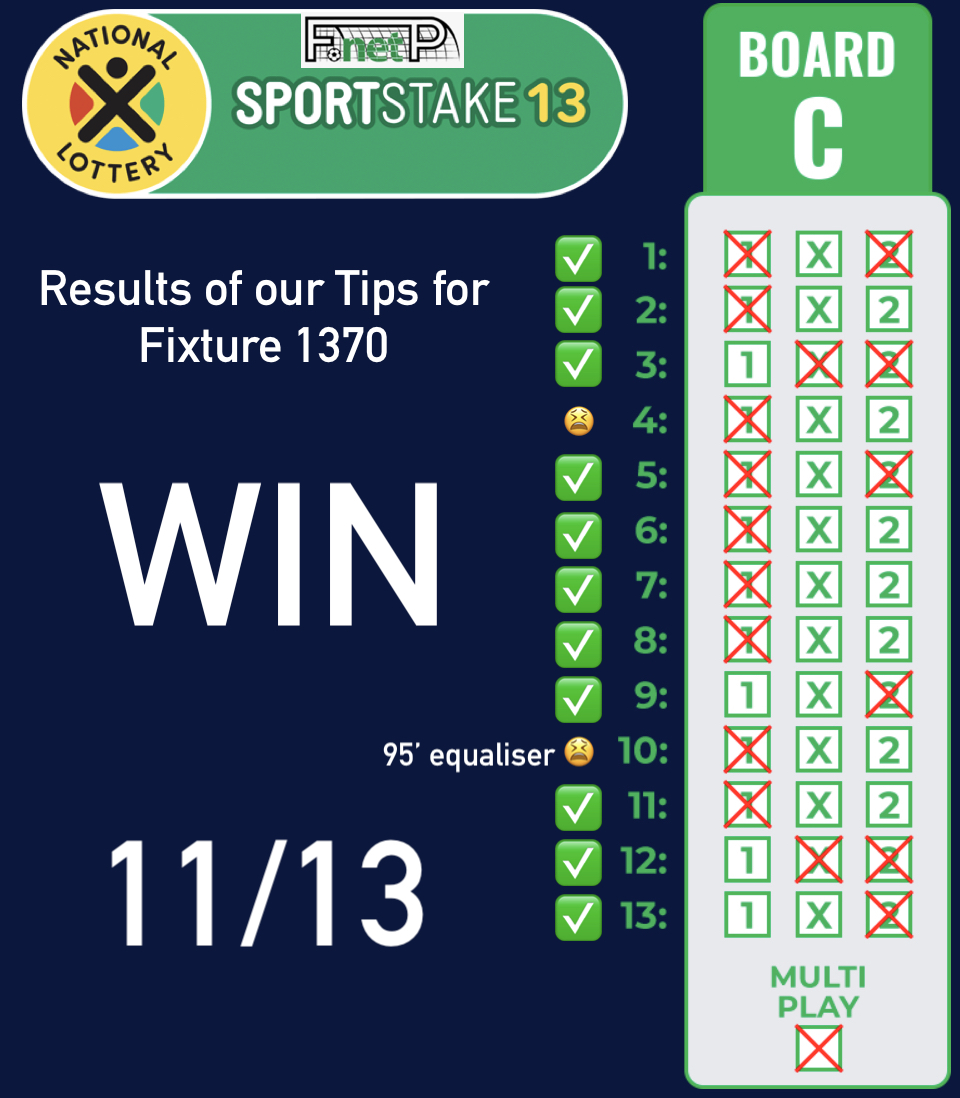 Soccer may be back to empty stadiums around the world and it gave us a chance to get our tips in for Sportstake 13. We made three Boards to choose from using our selections, including 2 multiplays.
Well, the news just in is that our Sportstake 13 tip for today's Fixture 1370 has won!
The National Lottery chose 13 interesting matches for this one, with some quite tough picks.
That's why, in our Board C, we decided to use Multiplay and hedge a few of the games - which paid off pretty well in the end. The first one was for the Wolfsburg vs Frankfurt match, where the away team was too good by a single goal.
Mainz's home game with Hoffenheim was also always going to be close and we had predicted a draw but also checked the box for an away win - which came to fruition at 0-1.
It could have been even better, what with selection number 10 looking good at 3-2 until the very last minute of the match. However, Energetik-BGU Minsk could just not hold out with their 10 men and conceded to Vitebsk right at the end. SOOO close! Anyway, that's sport for you.
Dortmund made short work of Paderborn with a 6-1 thrashing, and most people would have had that one down.
It came down to some nailbiting moments in the last kick-off - the match between Rukh Brest and Dynamo Brest. We had Dynamo down for the win, but Rukh took the early lead after 14 minutes.
Dynamo then managed to grab the equaliser on the half-hour mark through Sergei Kislyak and the game was then locked at 1-1 for a long period.
We had selected a draw as our second option in this one and it looked like it was going down to the wire. Could Dynamo calm our jangling nerves and stage a come-from-behind victory or were Rukh going to spoil the party?
The deadlock remained until Pavel Savitski put Dynamo ahead on 72 minutes to give us breathing space and then again on 81 minutes before Denis Laptev finally put the game beyond Rukh with another goal on 86 minutes!
All that meant that we had got 11 out of the 13 selections right and therefore got a winning ticket for our Multiplay tips for Board C.
Hopefully you were able to get onto these tips. Check out the next ones which will be out soon on our Sportstake 13 tips page.