By Peter Guest, FootballPredictions.NET, 15:37 12/08/2020
Updated at: 22:09 30/09/2020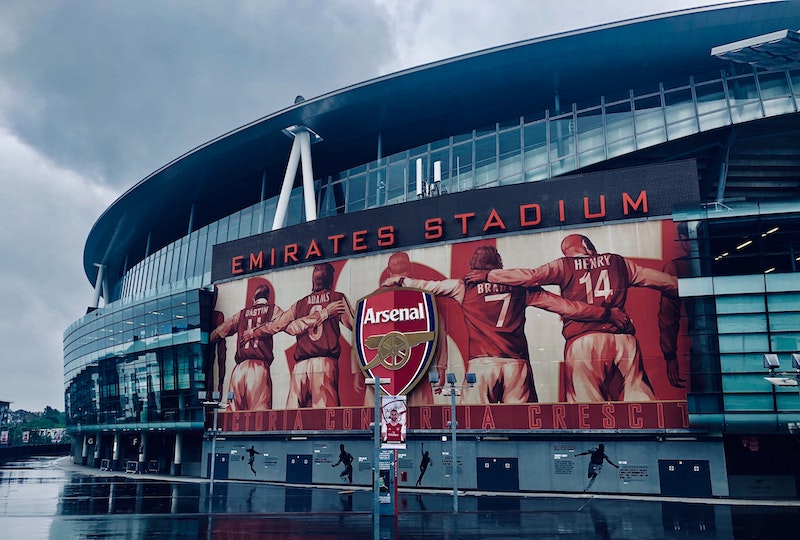 Arsenal has moved around London during its existence as a football club. Here we look at the structure of ownership for the current stadium that they call home.
Ashburton Grove, also known as Emirates Stadium for sponsorship purposes, is owned and operated by Kroenke Sports and Entertainment, the holding company which also owns Arsenal Football Club.
The stadium opened in July 2006 and has a capacity of 60,704. Arsenal built Emirates Stadium to compete with the largest clubs in England.
Manchester United, for example, rebuilt Old Trafford in 1996, increasing capacity to 55,000 (it is now even bigger at 74,879). As a result, United enjoyed a healthy boost in gate receipts, which rocketed to £87.9m in 1997.
Moving away from Highbury
Arsenal completed renovation work on their previous home Highbury in 1993 with the conversion of the North Bank, a project which cost £20 million. The work was needed in order for the stadium to comply with the findings of the Taylor Report.
This report suggested that all football stadia in England be all-seater. However, this construction work reduced Highbury's capacity from almost 70,000 to under 40,000.
This reduction had a negative effect on the club's finances, with Arsenal increasing ticket prices to allow for the club's debts. The Gunners realised that they would need to construct a new stadium to keep up with their closest rivals.
Arsenal were forced to play their Champions League ties at Wembley Stadium during the 1998-99 and 1999-2000 seasons after UEFA restrictions on Highbury.
The Gunners' home tie against Lens in the group stage of the competition saw a club record 73,707 fans pack into Wembley. This highlighted the potential for Arsenal to maximise their gate receipts in the coming years.
An offer to buy Wembley was rejected in 1998 and plans to remodel Highbury further were scuppered by the Grade II listing of the East Stand and potential demolition of surrounding homes.
In 1999, Arsenal settled on a site in Ashburton Grove as a location for a new 60,000 all-seater stadium.
The club secured funding for the project, which would cost around £390 million, through a range of means. Profits from player trading, sponsorship deals, bank loans and a supporter bond scheme meant Arsenal could press on with the new build. Construction started in February 2004.
"Soulless" new stadium
Emirates Stadium, which is known as Arsenal Stadium in European competition due to UEFA's rules on stadium sponsorship, opened in July 2006 after a series of test events.
In 2009 the club began to try and restore Arsenal's heritage and history to a stadium viewed as "soulless" by many fans and visitors alike. This included the installation of a huge mural depicting 32 of the club's best ever players, which swept around the exterior of the stadium.
Statues of club legends Tony Adams, Thierry Henry, Herbert Chapman and Dennis Bergkamp were also erected around the stadium's perimeter.
The club also renamed different areas of the ground after corresponding stands at the former stadium, Highbury.
Emirates' sponsorship and Kroenke
One of the sources of funding for the Emirates Stadium is Arsenal's ties with Emirates, the state-owned airline of the United Arab Emirates. The airline acquired naming rights for the ground in 2004, paying £100 million over 15 years in a deal which also included shirt sponsorship.
This deal was extended in 2012 for a further nine years, in a deal worth £150 million.
Stan Kroenke's holding company took full control (62.89%) of Arsenal in 2011 after holding 9.9%, 12.19% and 29.9% of the club's shares. The 73-year-old American has come under fire from Gunners fans who believe Kroenke to be using the club to turn a profit.
This comes after some high-profile sales of players and limited investment in the playing squad has caused the club to stagnate. This links to the significant loan repayments the club are currently paying for the construction of the Emirates Stadium.
Arsenal have failed to qualify for the UEFA Champions League for several successive seasons and are yet to win a league title under Kroenke's ownership.