By Peter Guest, FootballPredictions.NET, 17:40 20/04/2022
Updated at: 17:35 02/02/2023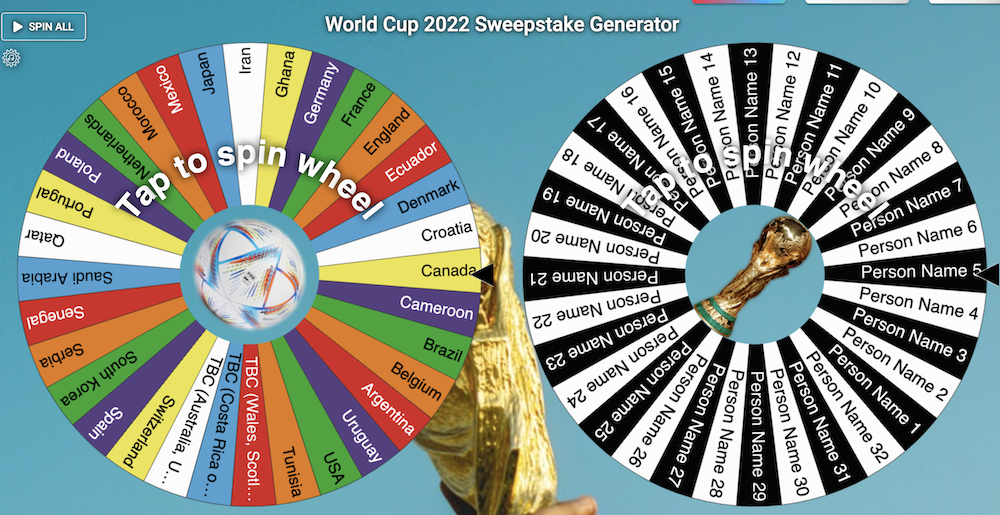 Here in the office at Football Predictions .NET HQ, we were looking into doing an office sweepstake for the World Cup. An online search revealed a very fun and innovative alternative to cutting out names on a printed sheet and putting them into a box to draw out one by one.
The Sweepstake Generator at Spinner Wheel .com has to be the best way to allocate teams to people that we have seen.
Instructions for the Sweepstake Generator
The concept is simple. All of the competing World Cup teams are pasted or entered on the wheel on the left. On the other wheel, you enter the names of the sweepstake participants.
Once done, you press the 'Spin all' button and the two wheels spin simultaneously. When the team and person that it has been allocated to has been chosen, the team name disappears from the left-hand wheel so that it can't be chosen again.
The names on the other wheel can be removed manually after each iteration (in case you need to allocate 2 teams to a single person - for example, if you have 16 people in a 32-team draw).
We've decided to use this for the World Cup as a fair, fun and sociable way to run the sweepstake competition. If you are running a sweep, good luck and you never know, you might just get the country that you hoped for.