By Andre Moura, FootballPredictions.NET, 14:37 28/09/2020
Updated at: 10:26 18/02/2021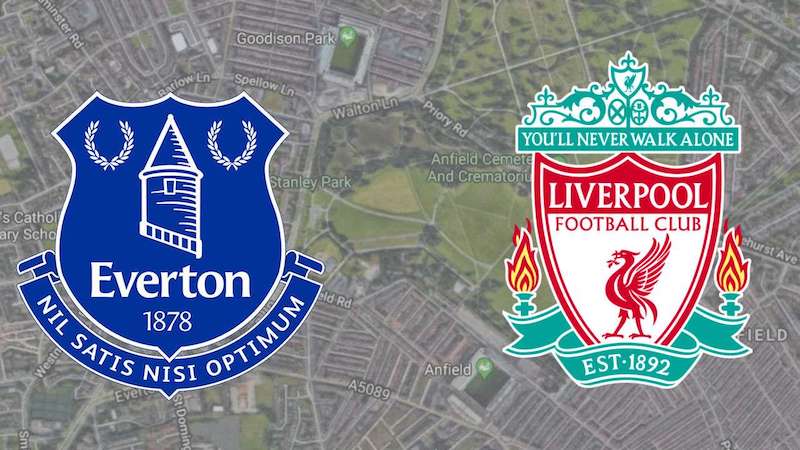 The Merseyside derby is one of the most frequent derby matches played in England. The clash between Liverpool and Everton is the longest-running top-flight derby in England and has been played continuously since the 1962/63 old First Division season.
Part of the rivalry is due to the fact that both home grounds are less than a mile from one another and can be seen from either side of Stanley Park.
There are many factors that separate the two clubs. From trophies won, to both teams having used Anfield as their home stadium, there is plenty of ammunition used by both sets of supporters to give themselves an advantage over their rivals.
However, in recent years Everton have struggled to compete with Liverpool on the pitch due to financial and personnel reasons.
The derby was once referred to as the 'friendly derby' due to the high number of families made up of both Liverpool and Everton fans. The 1984 League Cup final was also referred to as the 'friendly final' with supporters of both situated around the stadium with no segregation.
🔵 v 🔴

The Merseyside derby has produced some unreal goals 🙌#EVELIV pic.twitter.com/DUpuMIizpZ

— Premier League (@premierleague) October 17, 2020
However, throughout the mid to late 1980s, the derby intensified and the matches between the two have resulted in more red cards received than any other fixture since the inaugural Premier League season.
History of the Merseyside Derby
Everton initially played their home matches from 1884 at Anfield due to the club's chairman, John Houlding, owning the famous stadium. Politics and financial issues meant that Houlding was constantly in dispute with the Everton board.
As a result, Everton left Anfield and Houlding to buy Goodison Park. In response to this, Houlding formed his own club to play at the vacated ground, calling it "Liverpool FC".
Across the 2004/05 Premier League season, Everton finished fourth in the league and above Liverpool for the first time since 1987.
Some notable players to have played for both clubs are Peter Beardsley, Nick Barmby, Steve McMahon, and Abel Xavier.
Liverpool's Legendary Trophy Haul Dwarfs that of Everton's
Both Liverpool and Everton have an illustrious, trophy filled history, although it is Liverpool who has won the most during the modern era.
The Reds have won 19 First Division / Premier League trophies with their latest coming at the end of the 2019/20 season, their first for 30 years. Jurgen Klopp's side blew away the competition and cruised to their first Premier League crown.
Confirmation of their status as champions came as Chelsea beat Manchester City 2-1 at Stamford Bridge.
The Toffees' last league success came in 1987 where Howard Kendall's side beat their Merseyside rivals to the title by nine points. In total Everton has won a total of nine top-tier league titles.
In terms of FA Cups, the total won by each is much closer than that of league titles. Liverpool however still has the most FA Cups in their trophy cabinet (seven), while Everton has won the competition a combined five times.
The Blues' last FA Cup triumph came in 1995 when Joe Royle's side beat Alex Ferguson's Manchester United 1-0 thanks to a Paul Rideout strike.
Liverpool last lifted the traditional English cup in 2006 where they produced a comeback victory against West Ham. Steven Gerrard's long-range effort in injury time levelled the score at 3-3 before the Reds beat the Hammers 3-1 on penalties.
The European Cup/Champions League has still evaded Everton to this day, whereas Liverpool has triumphed a record six times for an English team.
Liverpool's Globalised Support a Lot Less Local than Toffees'
Many argue that more Liverpudlians support Everton over Liverpool, with the Reds' fanbase being made up of those across the country and abroad. However, the split between the two across the city is relatively even.
Both sets of supporters are fanatical about their club and each team brings a large following to both home and away matches.